Why Singing Traditional Carols Is So Important in the Modern Age
Are you listening? What a great question to ask this Christmas season.
Sleigh bells ring, are you listening?
Are you listening? What a great question to ask this Christmas season. Try standing in the middle of your local mall during the holiday rush and closing your eyes.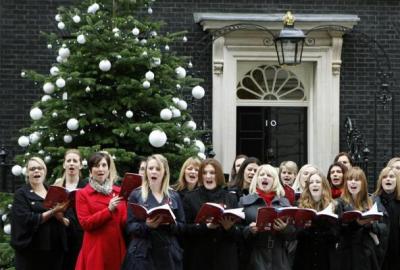 Perhaps that is why amidst all the giftwrapping and holiday party games, we really only find relief in the traditional Christmas carols sung by generations before us. As we sing these sacred lyrics and simple melodies together, we almost instinctively close our eyes and take deep, cleansing breaths. For a moment, we are finally listening. We are hearing echoes of the message the angelic hosts delivered to the shepherds. We are remembering the audacity of Divine King being willing to become a Divine Peasant. As we sing, a transformative perspective of the real story, message, and purpose of the holiday hullabaloo around us suddenly rushes back into hearts.
Kristyn and I recently released a book entitled Sing!: How Worship Transforms Your Life, Family, and Church. We wrote this book because we believe in and have personally experienced the incredibly divine influence that the sacred act of singing provides for people, families, and churches. While this rings true year round, it is especially and beautifully evident during the Christmas season.
At Christmas, we feel an inner distant tug from ages past, reminding us that we were literally created to sing. Scripture reveals the meticulous detail of the Creator's work in each of us: "For you created my inmost being; you knit me together in my mother's womb. I praise you because I am fearfully and wonderfully made" (Ps. 139:13–14). Since people sing from a very early age, it is evident that God has intentionally interwoven singing into our DNA. Literally, your ability to sing is fearfully and wonderfully made.
We are also commanded to sing. "Sing to the Lord a new song, his praise in the assembly of the saints" (Ps. 149:1). There are actually more than four hundred references to singing in the Bible and at least fifty direct commands. But like all of God's commands, they are not only good, but also for our good. In other words, we can trust God as we obey His commands. When we sing, we are both obeying and receiving the blessings that come from trusting a God whose "... commandments are not burdensome." (I John 5:3 ESV)
Finally, we are compelled to sing. Compelled is a strong word that communicates a desire resulting from both passion and principle. As we wrote in our book, "Our motivation to sing comes from so much more than ourselves—our likes, our comfort levels, our musical tastes and preferences. Intrinsically, it's driven by the One who died and was raised. It is driven by a heartfelt desire to convey gospel truth to those of us who already know it and need to be refreshed and renewed by it—and to communicate it to those who don't yet know, but who might be drawn to Christ through seeing and hearing people who clearly mean it because of the way that they sing about it."
We sing Christmas carols because they indelibly reveal the greatest news imaginable. These are not just "holiday" songs; they are gospel songs that joyfully build each of us up in our faith each and every time we sing them.
Carols are priceless theological works of art, and still we can actually experience them in our own homes with our families. Even though these songs plumb the richest doctrinal depths of tone and content, children still love to sing them. And when children sing, they carry the truth of the songs with them throughout their entire lives. We should not overlook the influence of teaching our children to sing songs such as these as a part of scripture's reminder to "Train up a child in the way he should go; even when he is old he will not depart from it." (Proverbs 22:6 ESV)
When trees are lit and the presents are wrapped, then families and friends, young and old, Christian and non-Christian—people from every corner of the cultural spectrum—come together to sing carols, which means they come together to worship. The songs are so well written that they enjoin the generations into one message, reminding us of God's faithfulness in the past, and yet still pointing us in hopefulness to His future grace yet to come. Perhaps that is why carols are some of the great masterworks of our faith.
This Christmas season, let's open our hearts to really listen to the messages of these masterpieces, and then let's open our mouths to sing them together!
Keith and his wife Kristyn Getty are currently on a tour of the USA for Sing! An Irish Christmas (www.gettymusic.com/christmas). The Gettys are also authors of the recent book: Sing! – How Worship Transforms Your Life, Family & Church (http://www.gettymusic.com/thesingbook).