Will King Charles III follow in his mother's footsteps?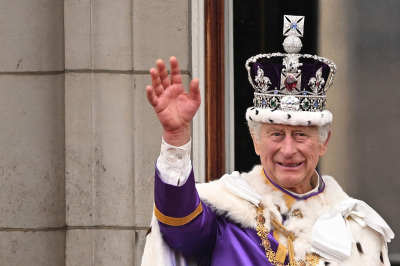 When Queen Elizabeth II was a mere 21 years of age, she vowed:

"I declare before you all that my whole life, whether it be long or short, shall be devoted to your service and to the service of our great imperial family, to which we all belong.  But I shall not have strength to carry out this resolution alone, unless you join in it with me, as I now invite you to do. I know that your support will be unfailingly given. God help me to make good my vow. And God bless all of you who are willing to share in it."

It was a promise she made and kept. She was a strong Christian who, in the words of her people, "never put a foot wrong." Towards the end of her life, she told many people that she looked forward to the day when she could lay her crown at her Savior's feet. On September 8, 2022, she went home to be with her Lord.
But what about her son and heir, King Charles III, whose coronation was celebrated this past Saturday, May 6th? Does he share that deep and abiding Christian faith?

King Charles, attempting to be many things to many people, leaves this in question. In his first speech as king, he committed himself to "many cultures, many faiths" with a "responsibility to the Church of England … in which my faith is so deeply rooted," yet he comes up short in proclaiming his own, personal faith in Jesus Christ.
Later in that same speech, he said "with unswerving devotion, I solemnly pledge myself throughout the remaining time God grants me, to uphold the constitutional principles at the heart of our nation." Again, he comes close to professing faith but does not actually confess to it. He goes on to say that he will serve his people, no matter what their background or faith. While this is admirable, where does King Charles stand?
When asked later last year about his own faith, he claimed to be "a committed Anglican," but also stated that he would defend other faiths. And so we move on to the upcoming coronation. This event is being held in Westminster Abbey and is meant to be an Anglican service. Charles, on the other hand, has decided to include people of various faiths in this event. While his intentions may be well-placed, the point seems to be missed. A Baptist preacher, for example, would probably not invite a Muslim, Hindu, or other religious leader to deliver the message on a Sunday morning. Why, then, would they be included in such an important Anglican service?
A more appropriate approach might be to have a special ecumenical service outside of the coronation, to show respect for other faiths which are practiced in the United Kingdom, rather than to place them into a service that has always represented the Christian faith.
Charles believes in showing respect to individuals who have no faith whatsoever, yet this seems to fall short of the Great Commission, where we are told to share the Gospel with everyone. Charles referred to the "sense of the sacred in all that surrounds us" in a BBC Radio 4 broadcast in January 2000, which seems to indicate a viewpoint that is not distinctly Christian in nature.
King Charles does exemplify many aspects of the Christian life, however. For example, he has forgiven his son, Prince Harry, inviting the prodigal son to attend his coronation. He has demonstrated forgiveness 70 times 7, as this wayward prince has proclaimed the most negative viewpoints on his entire family, including Queen Elizabeth II, Prince Phillip, Charles, Queen Camilla, William, Catherine, and their children. King Charles has gone out of his way to help Prince Harry and his wife, Meghan Markle, only to have them ridicule him to a worldwide audience. His desire to reconcile has been so deep that King Charles has appeared to the worldwide audience as a weak king, rather than being seen as a man of faith.
In another way, King Charles honored his mother and father by complimenting them for being loving, as he spoke in his first speech to the nation, following her death. While studies have shown that his parents were frequently distant and apparently unloving, King Charles does not speak against them.
However, it could be argued that his behavior with Camilla Parker-Bowles from the time they were young, until their eventual marriage in April 2005, was anything but Christian. When they were both married to others, they had a decades-long love affair that eventually destroyed both their marriages and negatively impacted their children. Neither Charles nor Camilla (who was Catholic at the time) are shining examples of the Christian faith during those dark decades. For the past 17 years, however, they have been devoted to one another; the English people have, for the most part, forgiven them and moved on. While forgiveness is a wonderful thing, the British people have been subjected to a massive PR campaign designed to "sell" Queen Camilla to the public. Indeed, it has seemed through the past several months that King Charles is more eager to have Camilla crowned Queen than to focus on own his role in the coronation.
There is one deeply disturbing thought: Charles is asking people to pledge their allegiance to him. The oath goes like this: "I, (insert full name) do swear that I will be faithful and bear true allegiance to His Majesty King Charles, his heirs and successors, according to law. So, help me God."  Queen Elizabeth gave her oath, with her hand on the Bible, to serve her people. This is the first time a monarch has wanted his people to swear their allegiance to him. As for his heirs and successors, right now, that would be, in part Prince William and Prince Harry.

Scary food for thought. God save the king, because the UK might just need it.
Dr. Sheri Dean Parmelee is an Associate Professor of communications at Liberty University.