World Refugee Day: Praying the wanderers can say 'We are home'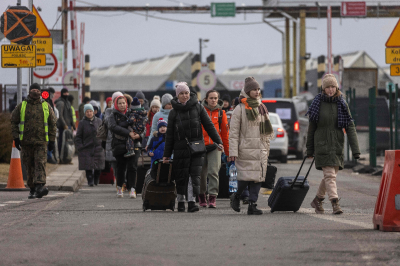 Every year on June 20, the world observes World Refugee Day, established by the U.N. in 2001 to celebrate "the strength and courage of people who have been forced to flee their home country to escape conflict or persecution." It is a day that resonates with many, especially now, as we see the continued images of Ukrainians forced to flee from their home country to safety elsewhere.

Svetlana is an elderly woman from Ukraine. She has been a refugee twice in her life. Once, when she was a little girl, she fled with her family to escape the Nazi army in World War II. Then, later in life, she fled once again to escape the horrors of the war that erupted after Russia invaded Ukraine last year. She recalls her disbelief at again having to leave her home: "I didn't think that war in Ukraine would drive me out of my hometown for the second time," she says. "I never thought I would face bombings in old age as I did in my childhood."
"After two of the longest and most terrible weeks of my life, we got a call from the synagogue and were told there was an evacuation bus. We had to come to the synagogue within an hour. We had a glimmer of hope. When we got on the bus, we simply relied on fate — which we put in God's hands, then prayed and prayed for his mercy." That bus took her out of the war zone, and she ultimately ended up living in safety in Israel.
Laknesh's relatively stable life crumbled in the 1980s when the effects of a long and bloody civil war hit home. Her husband was killed in that war, and she was all alone. She decided to come to Israel, but the decision was fraught with danger: Ethiopian Jews who managed to escape the war-torn country had to make their way to Israel mostly on foot, via Sudan. This journey could take months, and many died on the road from hunger and disease. It was too dangerous to travel in large groups because leaving the country was illegal, so Laknesh joined several others – along with four children from her family – and set out on the perilous journey. "I was very scared," she says, "but the fear of staying in Ethiopia was worse. All the Jews were leaving because of severe anti-Semitism and violence. I didn't want to be left behind and stay on my own there."
Svetlana and Laknesh share something in common not just with each other, but with hundreds of thousands of other refugees: stories of loss and trauma, experiences of great hardship and deprivation, and ultimately the dream of a better life in a place where they can live in freedom and security. Fortunately for Svetlana and Laknesh, they were able to realize that dream in Israel, which offers refuge to Jews around the world.
Throughout much of their history, the Jewish people have lived as refugees. Much of their wandering has been out of necessity — to escape pogroms, rampant anti-Semitism, violence, and death, hoping to find a better life at the end of a long and difficult road. They have dreamed of living in peace, of living with self-determination. They have dreamed of being able to practice their faith without fear of being persecuted because of their religious and ethnic identity.
They have clung to that dream for millennia: after fleeing slavery in Egypt, through the catastrophic destruction of both Holy Temples in Jerusalem, the Crusades, and brutal pogroms. This history of persecution culminates in the Holocaust, which wiped a third of world Jewry off the face of the earth.
It even continued after the modern state of Israel was formed in 1948. Beyond the hundreds of thousands of Jews fleeing Europe, when Israel declared her independence hundreds of thousands were forced to flee from Arab states, facing hostility in countries where they had been living in relative peace for generations. By some estimates, today, nearly half of Israel's native population descends from the Jewish refugees of the Arab world. This mass migration – from Europe, Africa, Arab countries, and elsewhere — makes Israel one of the most diverse, culturally rich countries in the world.
Today, of course, the Jewish people have something that so many others do not: a secure, sovereign land to call their own. The miracle — one of the many miracles — of modern-day Israel is that it acts as a refuge for people who have longed for home. It acts as a safe haven for Jews from around the world.
As Israel celebrates its 75th anniversary this year, we celebrate the fact that so many people who either began their lives as refugees or became refugees later in life have found their homes. We celebrate the fact that they have come, in the Bible's words, "from the four corners of the earth," bringing with them and enriching the Jewish state with their unique traditions. And we pray for the day when other wanderers will be able to say: we are home.
Yael Eckstein is the president and CEO of the International Fellowship of Christians and Jews (The Fellowship). In this role, Eckstein oversees all ministry programs and serves as the organization's international spokesperson. She can be heard on The Fellowship's daily radio program airing on 1,300 stations worldwide, and on her podcasts, Nourish Your Biblical Roots and Conversations with Yael. Before her present duties, Yael served as global executive vice president, senior vice president, and director of program development and ministry outreach. Based in Jerusalem, Yael is a published writer, leading international advocate for persecuted religious minorities, and a respected social services professional. As president and CEO of The Fellowship, she also holds the rare distinction of being a woman leading one of America's largest religious nonprofit organizations