Ethereal angel artist Anne Neilson says Holy Spirit paints through her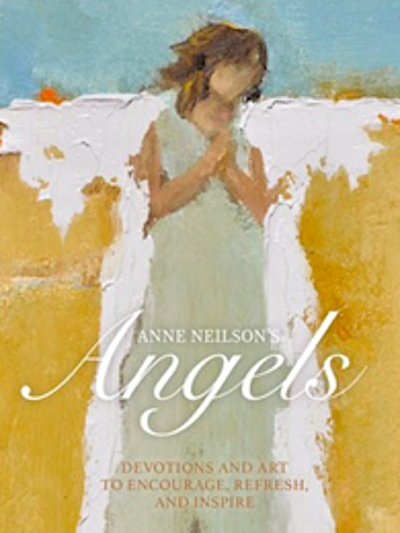 Artist Anne Neilson says God has called her to use her talents to bring people closer to Him and credits the Holy Spirit in helping her create the ethereal beings illustrated in her devotionals.
Neilson, who became nationally renowned for her ethereal Angel Series, was recently featured on the "Today" show website, where her new book was listed as one of co-host Hoda Kotb's favorite things.
"I knew that God had a calling to give back through the talent that He had given me; what a privilege to serve His Kingdom on this Earth," Neilson told The Christian Post of her book.
Her coffee table devotional titled,Angels: Devotions and Art to Encourage, Refresh, and Inspire (Thomas Nelson), explores individual words such as love, abundance, and release — things the wife and mother of four says we all need, especially this year and during Holy Week. The book's foreword was written by Neilson's friend, Kathie Lee Gifford.
"I paint to praise music and allow the Holy Spirit to move through me onto a blank canvas and create these ethereal beings," she told CP. 
Each devotional entry in the book features a new angel painting by Neilson, a definition to go along with the artwork, a scripture reading and prayer, and two pages of Neilson's written reflections from her life. 
Neilson not only paints with passion, but her work has a purpose. Profits from the sale of her products, which has generated more than $500,000 in the past six years, are given to those less fortunate.
The following is an edited transcript of The Christian Post's interview with Neilson, where she shared her thoughts about angels and the inspiration behind her faith-filled artwork and devotions.
CP: What first inspired you to paint ethereal angels?   
Neilson: Back in 2003, I wanted to paint something that reflected my faith, not that I am an angel, but I experimented with color and texture and ended up painting an ethereal, abstract angel. I sent a picture to my sister asking her opinion and her comment back to me was, "Wow, I think you found your voice." Actually, over these past 19 years, I believe it has become my life song.
CP: Can you briefly share your testimony with us?   
Neilson: Oh wow, that will be in the next memoir, The Brushstrokes of Life. It's been a long journey, but I knew as a young girl that I wanted to be an artist. Actually, in the third grade, I wrote a few sentences from a prompt: "What did I want to do when I grew up?" And highlighted was that I wanted to be an artist.
Fast forward to 10th grade studio art class, I made a D- in that class. God has a sense of humor. He deposited early on deep in my soul a desire to create. And throughout the journey, He has been the one to equip, shape, mold me to be exactly where I am today.  
CP: Can you tell us about your coffee table devotional and what inspired the content?  
Neilson: Well, after the demand for an original angel painting and the growing crazy stories of divine appointments along the way, I decided to self-publish a coffee table book. This was in 2012. That way, everyone would have access to an angel and the stories of the journey along the way. I printed 1,500 copies of this large coffee table book, and within three weeks, they were all gone!  
My husband actually arrived shortly after the books were unpacked and said, "Honey, what in the heck have you done (looking at all the pallets of boxes of books!)? And how are we going to get rid of these books?"
I replied that we were going to sell all of them and bless the lives of many. A few weeks later, I had someone email me a testimony of how she loved the book and how it was going to be her new "devotional." I thought that large coffee table book was a bit awkward and large for a devotional, so I started praying about how to get a published (smaller devotional) book. It was such another divine appointment how we connected with Thomas Nelson.
As we worked through the design, we decided that a 40-day word devotional with 40 new angels would be the perfect book. Words are so powerful, they have the power to build up or tear down. And the way that we use words in our own lives seemed like a perfect fit for this newest little book. It's been a treasure, especially the fact that we sold 40,000 copies in the first 60 days!
CP: What are you hoping people take away from your book as Easter approaches?  
Neilson: I am really praying for a newer and deeper relationship with the master Creator! I am praying that people who read this book will ponder on the words throughout each page and apply them to their daily lives.  
One of the devotionals I love is about being busy. That is the one thing that everyone says to me, "Oh, you are so busy." I don't ever want to glorify that word. ... I came up with a little acronym for the word — Be Uniquely Serving Yahweh — by using (what is) specifically yours! We are all busy but use what God has given you to glorify Him, today and always!
CP: Can you speak to the significance of angels?  
Neilson: There have been so many people that ask if I see angels. I don't know. I paint to praise music and allow the Holy Spirit to move through me onto a blank canvas and create these ethereal beings. I have heard so many stories of how angels have had a huge impact in people's lives.
My prayer for myself and my family is that God would surround us not with just one guardian angel but with a warring army of angels. Over the past 19 years, I have had so many people share their "angel" stories with me. Can't wait to compile these in yet another book. Stay tuned!
CP: We have interviewed Kathie Lee Gifford several times, and she wrote the foreword to your book. Can you share about your faith connection with her? 
Neilson: She is one special friend. Eight years ago, I sent her a copy of my coffee table book, Angels In Our Midst. Everyone asks, "Why Kathie Lee?"
When I was painting pottery (back in the early '90s), I would always watch the "Regis and Kathie Lee" show. I knew her heart, and I loved the show. Plus, marketing 101, I wanted to get my book promoted.  
I sent her a copy and a few weeks later got the most incredible email from Kathie. We emailed back and forth for a while, and I was getting ready for a show in Connecticut about an hour-and-a-half from her home. She said she would come, wanted to meet me on "this side of Heaven – how, when, where" and agreed to come to the show. 
I packed up a body of work and off we went; my husband and two middle daughters. We arrived in Essex, Connecticut, and it was the most dreariest, snowy day. Kathie emailed to say that she could not make it, and my daughters were complaining, "Why did you drag us here? There is nothing to do, and no one is going to come to this show?" 
I remember twirling around and saying, "No matter what, we are not going to complain but be a blessing no matter what!" 
About an hour into the show, the gallery manager tells me that Kathie Lee is upfront. I went to the front of the gallery and it was as if we were long-lost best friends. She looked at me and said, "I guess you are wondering why I am here? The Lord woke me up at 4 a.m. and told me to come and encourage you. So here I am." We have been soul sisters in Christ ever since.  She is an amazing friend and has walked with me through this crazy journey!
CP: Your heart to give back is very admirable. What have you learned about the power of paying it forward?  
Neilson: This is the heartbeat of our why, why we do what we do.
Back in 2003, I was volunteering at a local homeless shelter. I was back in the kitchen preparing the physical food while over 200 homeless (friends) were in the gym area receiving "spiritual food." There was a revival going on, worship and a minister preaching a message.  
These friends, who had hardly anything, were worshiping as if they had everything. It was a powerful day for me. And as I climbed into my new Suburban, heading home to my new home, I just broke out sobbing, asking the Lord: "How am I going to do all this? How am I going to be a good wife, a good mother (of four little ones at the time)?"
My passion was to paint and my heart wanted to serve, but how?
I heard a whisper to my heart [that said], "Paint and give back."
That afternoon, I got home and had a message on our answering machine — the old kind that you had to rewind — and a lady who was selling my smaller little angels had left a message that a lady from out of town had come in and bought all three of my angels. I knew that God had a calling to give back through the talent that He had given me. What a privilege to serve His Kingdom on this Earth!
This has been a journey that only God can equip and guide along the path of life.  
Angels: Devotions and Art to Encourage, Refresh, and Inspireis now available.