1 in 10 Protestant Churches Has Had Money Stolen: Survey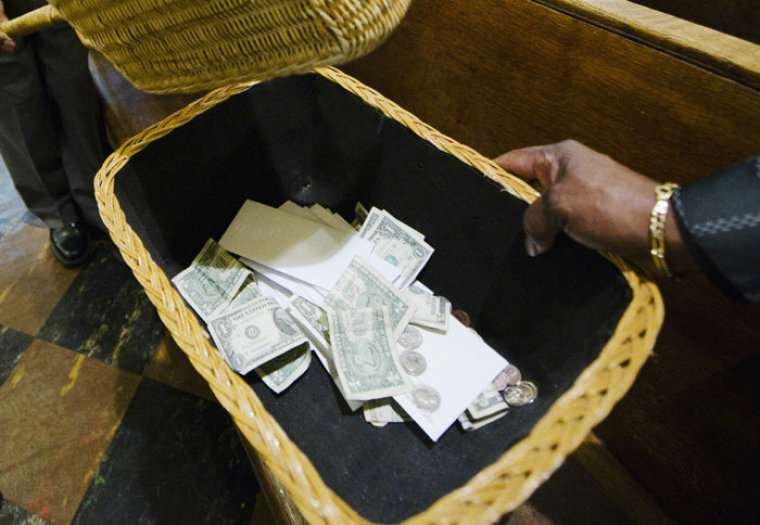 About one in 10 Protestant churches has had someone embezzle funds, according to a new survey by LifeWay Research, which says it could be due to churches' reliance on volunteers to handle their finances.
Nine percent of pastors say that their church has witnessed embezzlement of funds, while 91 percent say they are not aware of any such incident, says the survey of 1,000 Protestant senior pastors by Nashville-based LifeWay Research.
The survey found that pastors of mid-sized churches, or those with between 100 and 249 members, are less likely to say funds had been embezzled (6 percent) than those with 250 or more members (12 percent).
While 16 percent of Churches of Christ ministers are likely to say their church had funds embezzled, only 7 percent of Baptist pastors and 6 percent Presbyterian/Reformed pastors are likely to say so, the survey adds.
The study notes that volunteers are usually honest, but churches often lack systems to catch those who aren't.
"Churches run on trust — but they also know people are imperfect and can be tempted," Scott McConnell, executive director of LifeWay Research, said. "That's why safeguarding a church's finances is an important part of ministry."
In 2014, Joel Osteen's Lakewood Church in Houston, Texas, was robbed of $600,000 in donations.
"We were heartbroken to learn today that funds were stolen from the church over the weekend," Lakewood told the 45,000-strong congregation, the biggest in America, in a statement. "This includes cash, checks and envelopes containing written credit card information, and it is limited only to those funds contributed in the church services on Saturday, March 8 and Sunday, March 9, 2014."
LifeWay researchers also asked pastors when their church's financial books were last audited and how much cash they had in reserves.
Forty-seven percent of pastors said their church has had a complete audit in the last year, while 66 percent said their church's books have been audited within the last four years.
Further, 34 percent said the most recent audit was more than five years ago, 10 percent said their books haven't been audited ever and 14 percent said they don't know when their church last had an audit.
The survey also found that Methodist pastors are most likely (74 percent) to say their church had a complete audit within the last year. Baptist (17 percent) and Pentecostal pastors (18 percent) are more likely to say they had an audit more than five years ago.
Meanwhile, Church of Christ (16 percent) and Pentecostal pastors (17 percent) are more likely to say their church has never been audited. African-American pastors (25 percent) are the most likely ethnic group to say their church has never had an audit.
As for reserves, 50 percent said they have operating reserves to cover at least four months. The other half said they have 15 weeks or less of reserves. Smaller churches, LifeWay noted, often have more weeks of reserves than larger congregations.