10 U2 Songs Written by Bono That Reference the Bible (VIDEO)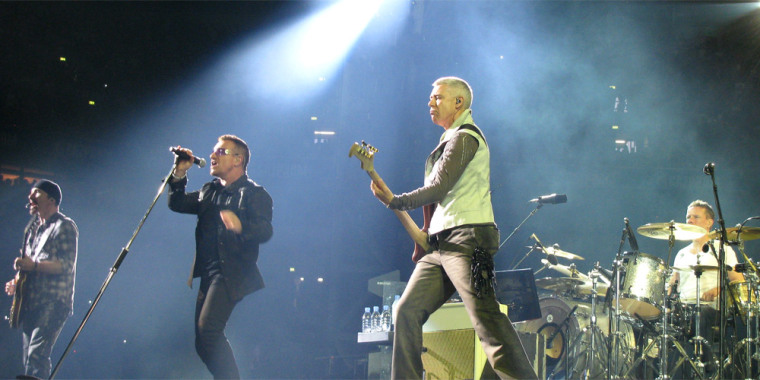 Depending upon whom you ask, Bono, the outspoken frontman of Irish rock act U2, is a Grammy-winning, Africa-saving, leather-wearing crooner of the Gospel – or he's as bad as Satan.
No matter which view you hold (I guess you could be somewhere in the middle), you should see this abridged history of Scripture in U2's music. Three of the band's four members – Bono, guitarist David Evans ("The Edge") and drummer Larry Mullen, Jr. – identify themselves as Christian, so Biblical references abound.
Here are 10 U2 songs that reference the Bible, along with the year and album on which they were released.
"YAHWEH" (2004, "How to Dismantle an Atomic Bomb")
"40" (1983, "War")
In "Yahweh," Bono sings "A city should be shining on the hill; Take this city if it be your will," a reference to Jesus' teaching in Matthew 5:14 that his disciples should shine their light in the world as a city on a hill cannot be hidden.
The lyrics of "40" are essentially Xeroxed from Psalm 40.
"PRIDE IN THE NAME OF LOVE" (1984, "The Unforgettable Fire")
The song contains several references to Jesus as "One man come in the name of love" and "One man come he to justify." Clearly, Christ is the subject when Bono sings about "One man betrayed with a kiss," as Judas kissed Jesus in Matthew 26:47–49 to identify him to the arresting parties.
"GLORIA" (1981, "October")
Bono sings "Oh Lord, loosen my lips" as an echo of Psalm 51:15:
"O Lord, open my lips, and my mouth will declare your praise." (ESV)
"I STILL HAVEN'T FOUND WHAT I'M LOOKING FOR"
Again, the lyrics point to Jesus.
You broke the bonds and you
 Loosed the chains
 Carried the cross
 And my shame
 All my shame
 You know I believe it
"UNTIL THE END OF THE WORLD" (1991, "Achtung Baby")
These lyrics imagine a monologue by Judas Iscariot to Jesus, again referring to the kiss in Matthew 26.
In the garden I was playing the tart
I kissed your lips and broke your heart
You, you were acting like it was
The end of the world
"BEAUTIFUL DAY" (2000, "All That You Can't Leave Behind")
Bono pictures the dove and rainbow that Noah saw after the Flood in Genesis 8.
See the bird with a leaf in her mouth
After the flood all the colors came out
"GRACE" (2000, "All That You Can't Leave Behind")
God's grace is elegantly personified as a woman. When Bono sings that "She carries a pearl in perfect condition," he touches upon the pearl of great price in Jesus's parable in Matthew 13:45–46:
Again, the kingdom of heaven is like a merchant in search of fine pearls, who, on finding one pearl of great value, went and sold all that he had and bought it. (ESV)
"VERTIGO" (2000, "How to Dismantle an Atomic Bomb")
Bono paints a picture of when Satan tries to tempt Jesus into worshipping him in Luke 4:7, presenting the world as a prize.
All of this can be yours
Just give me what I want
And no one gets hurt
"MAGNIFICENT" (2004, "No Line on the Horizon")
Bono sings "From the womb my first cry; it was a joyful noise," mirroring Psalm 100:1:
Make a joyful noise to the Lord, all the earth! (ESV)
As for when he sings
I was born
 I was born to sing for you
 I didn't have a choice
 But to lift you up
 And sing whatever song you wanted me to
 I give you back my voice
After all of this, who do you think he's singing to?