12,000 Boy Scouts members were victims of sexual abuse from thousands of leaders, expert says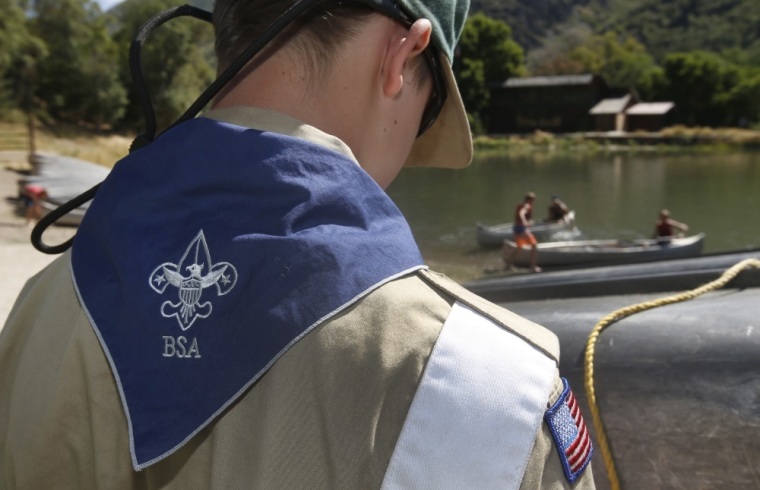 More than 12,000 Boy Scout members have been victims of childhood sexual abuse at the hands of 7,819 allegedly sexually abusive troop leaders and volunteers, according to an analysis of long-held records in the organization known as the "perversion files."
The perversion files, which have previously been highlighted, show thousands of offenders of childhood sexual abuse that have been removed from the Boy Scouts of America over the years. The files were kept private at the BSA headquarters.
At a press conference in New York City on Tuesday, trial lawyer Jeff Anderson, a widely recognized pioneer in sexual abuse litigation and a champion of survivors of childhood sexual abuse, revealed the abuse numbers based on the testimony of Dr. Janet Warren, a professor in the Department of Psychiatry & Neurobehavioral Sciences at the University of Virginia's medical school from a case earlier this year.
The new testimony was entered into the court record as part of a January trial about child sex abuse at a Minnesota children's theater company.
"Dr. Janet Warren testified that she has been retained by the Boy Scouts of America and for the last five years she has been auditing these files and reviewing them. And she revealed to us, to our shock and dismay that there are 7,819 perpetrators of childhood sexual abuse in these files," Anderson said in a recording of the press conference.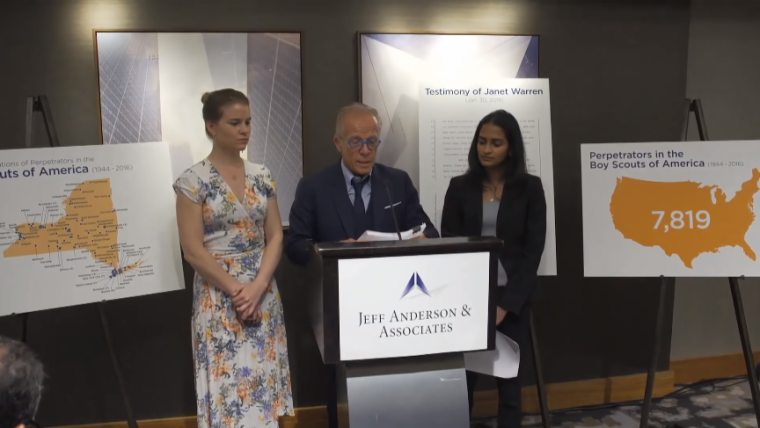 "Secondly, she revealed under oath, in her audit working for the Boy Scouts of America, that there are 12,254 victims of childhood sexual abuse in those files, in the perversion files of Scout leaders. That's not a number known to us or revealed before," he explained.
Warren testified that she has been "on private contract" with the BSA for the past five years, evaluating perversion files from 1944 through 2016.
The BSA released a statement to ABC News expressing sympathy to the victims and highlighted their ongoing efforts to protect children.
"We care deeply about all victims of child abuse and sincerely apologize to anyone who was harmed during their time in Scouting. We believe victims, we support them, and we have paid for unlimited counseling by a provider of their choice," the organization said. "Nothing is more important than the safety and protection of children in Scouting and we are outraged that there have been times when individuals took advantage of our programs to abuse innocent children."
Earlier this year, New York State passed the Child Victims Act which will allow child victims to seek prosecution against their abuser until the age of 55 in civil cases, up from a previous limit of age 23. In criminal cases, victims can seek prosecution until they turn 28. The bill also includes a one-year window during which victims of any age or time limit can come forward to prosecute.
Anderson said it is because of this new law that he chose to ring the alarm on the extent of the abuse in the BSA in the city. At least 130 allegedly abusive leaders have been identified in the state.
 "Knowing that the Child Victims Act has now been passed into law in New York and knowing the survivors will now be given a voice and are given a voice to bring an action, the same way we brought actions against the Boy Scouts of America, the Roman Catholic Church hierarchy, schools and organizations across this country, survivors in New York are now given this chance but they don't have that chance to exercise that voice and do it legally until August 14th," Anderson said. "When we got this information we had to sound the alarm. We knew that in New York, as we've reviewed these files and distilled this information, there are 130 in New York alone."
It is unclear if any potential lawsuits against the BSA will reap much by way of financial penalty.
Last December, after being slapped with a federal trademark lawsuit by the Girl Scouts of the United States of America, the BSA was reportedly considering bankruptcy as membership plummeted and legal costs from defending itself against lawsuits alleging sexual abuse of boys mounted.
Sources told The Wall Street Journal that the BSA hired law firm Sidley Austin LLP for assistance with a possible Chapter 11 bankruptcy filing.
The BSA confirmed in a statement that it was "working with experts to explore all options available to ensure that the local and national programming of the Boy Scouts of America continues uninterrupted."
Chief Scout Executive Michael Surbaugh noted in the statement that while there were "no imminent actions or immediate decisions expected" the organization continued to examine the best way to manage a desire to carry out their mission while compensating victims of sexual abuse at the same time.
"We have a social and moral responsibility to fairly compensate victims who suffered abuse during their time in Scouting, and we also have an obligation to carry out our mission to serve youth, families and local communities through our programs," Surbaugh said.
"Throughout our history we have taken proactive steps to help victims heal and prevent future abuse. I want to stress that at no time in our history have we knowingly allowed a sexual predator to work with youth, and we always seek to act swiftly when alerted to abuse allegations," he added.
The BSA is one of the largest Scouting organizations in the U.S. as well as one of the largest youth organizations in the country with more than 2.4 million youth participants and nearly 1 million adult volunteers.