200 Christians Massacred in Aleppo Rocket Attacks
Islamic Opposition Groups Hostile to Christians Warn They Will Drive Believers Out of Syria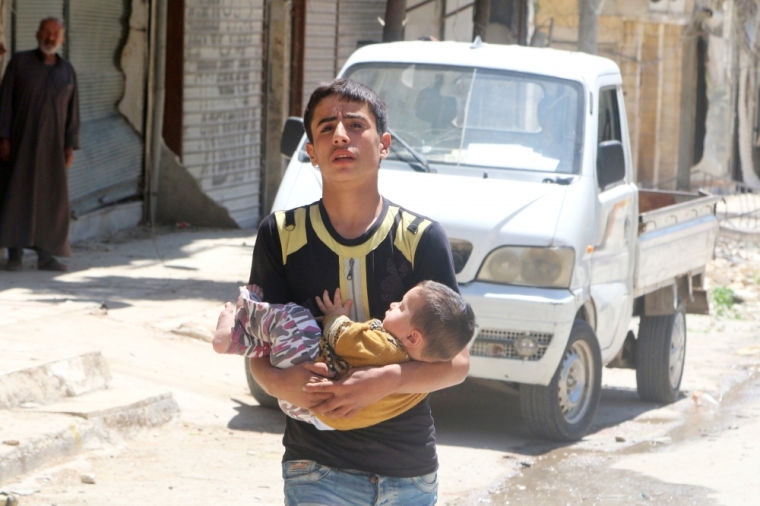 As many as 200 Christians have been killed in recent weeks in bombardments in the war-torn city of Aleppo, relief groups have said, with women and children accounting for half of the victims.
"Lift up in prayer the Christian community of Aleppo and all innocent civilians in the city following a sustained period of bombardment, which mainly targeted the Christian area," aid group Barnabas Fund told BosNewsLife in a statement.
The Christian area in Aleppo was hit by 1,350 rockets between April 22 and April 30, the group said, which killed some 132 people, half of them women and children. Further bombardments on May 3 resulted in the deaths of 65 others, while hundreds more were injured.
"Of the 65 killed on May 3, an estimated 35 died when Dabbit Hospital, which treated only women and children, was destroyed by a rocket explosion," Barnabas Fund noted. "Two patients died whilst on the operating table. Another hospital in the government area was damaged in part and has now been closed down."
Church leaders in Aleppo have been lamenting the intensity of the civil war, waged between the Syrian government and various rebel groups, with a number of cities with Christian populations caught in the crossfire.
"Never, since the beginning of this terrible war, were things as bad as they are now. I have no words to describe all the suffering I see on a daily basis," Fr. Ibrahim Alsabagh told Catholic charity Aid to the Church in Need last week.
Barnabas Fund blamed Syrian and Russian forces of carrying out the latest bombardments with high civilian casualties in Aleppo, targeting rebel-held areas. The Islamic opposition groups have also reportedly been hostile toward Christians, warning they will drive out Armenians and Christians from the area.
The relief group noted that hope remains in people gathering together in prayer, and said various denominations, government representatives and Middle East Christian media outlets took part in a major prayer gathering amid the devastation.
"People across the world joined with Aleppo's Christians for this time of prayer," the group said.
Alsabagh separately said that only about 50,000 Christians are left in Aleppo, with only the poor and those unable to escape left.
"So many houses have been partially or entirely destroyed, and so many people killed or severely injured," the priest added.
"And when the bombs do stop falling, there is an eerie silence, like in a cemetery. The streets are as though everyone has died."
He noted that Christians are trying not to lose hope and to continue helping victims, with ACN one of the organizations providing food, clothing, medicines and other necessities.
"But at least I thank God that through his grace I am able to be a good Samaritan to all the suffering people. I try to console them with the Word of God, but also with deeds of corporal mercy," Alsabagh said.