2016 Electoral College Map Projections: Is the Email Scandal Hurting Hillary Clinton?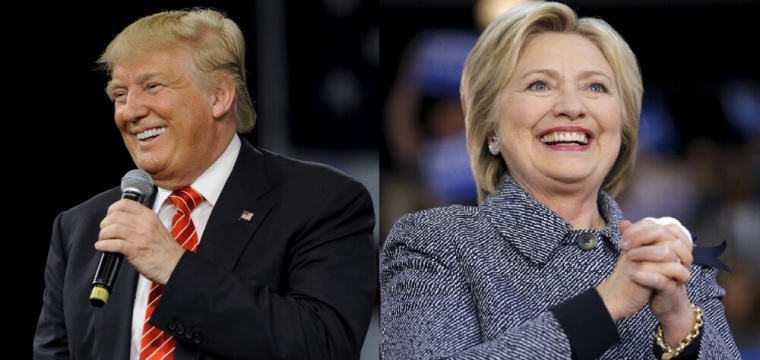 Next week tens of millions of people across the United States of America will go to the polls and vote for the next president of the free world.
As October draws to a close, both Republican Party nominee Donald Trump and Democratic Party nominee Hillary Clinton have been weathering major public scandals.
Over the past few days Clinton has seen a decline in support following the much-publicized letter by FBI Director James Comey about a possible reopening of the investigation into her email server.
How much of an impact has this "October Surprise" had on Clinton's chances of becoming the first woman president? Below are three perspectives on the matter.
1. Real Clear Politics
As with previous days, Real Clear Politics' "no toss-ups" map shows a considerable Clinton victory in the electoral college against Trump if the election were today.
Accessed Tuesday afternoon, the "no toss-ups" map gives Clinton 305 electoral points while giving Trump 233 electoral points.
This map shows Clinton winning Arizona, Colorado, Nevada, North Carolina, Pennsylvania, and Virginia. Nevertheless, the 305 is a decrease from last week when the "no toss-ups" map gave Clinton 333.
The "no toss-ups" map also gives Florida and Ohio to Trump, giving him 28 more electoral points this week than the 205 the map predicted before the Comey letter was released.
Furthermore, the "toss-ups" map no longer shows Clinton with a secured 272 electoral points like last week, but rather decreases her total to 263 while increasing Trump's total from 126 electoral points to 164.
The "toss-ups" map has 111 electoral points up for grabs. In this number includes Arizona, Colorado, Florida, Nevada, and North Carolina.
RCP also reported that an ABC/Wash Post Tracking poll taken mostly after the Comey letter was made public placed Trump one percentage point ahead of Clinton in the popular vote.
2. Polly Vote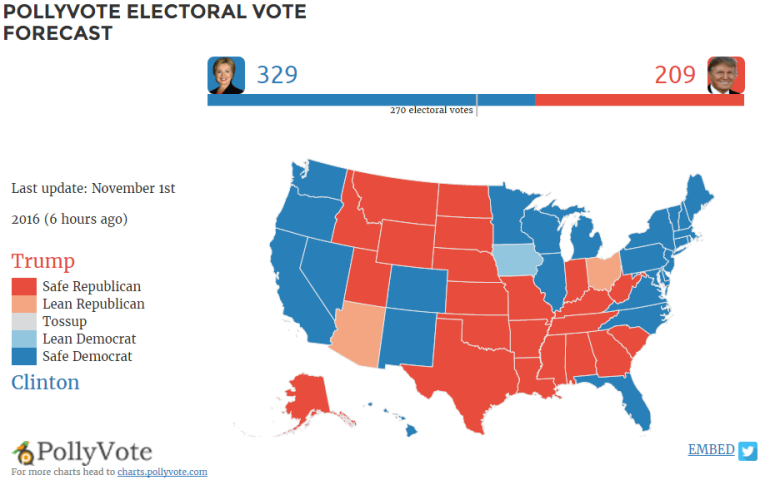 The election forecasting site Polly Vote also showed a decline in the electoral college victory margin for Clinton against Trump.
Updated Tuesday morning, Polly Vote's map gave Clinton 329 electoral points and Trump with 209 electoral points. While still a Clinton victory, the numbers show an 18-electoral point decline for Clinton and an 18-electoral point increase for Trump compared to last week before the release of the Comey letter.
Polly Vote puts Florida, North Carolina, Pennsylvania, and Virginia in the "Safe Democrat" category, while listing Iowa in the "Lean Democrat" category. Arizona and Ohio were put in the "Lean Republican" category.
The site also predicted that Clinton would win 53.2 percent of the popular vote while Trump would win 46.8 percent of the popular vote.
The popular vote numbers are slightly closer than last week, when Polly Vote gave Clinton 54.2 percent and Trump 45.8 percent.
3. Five Thirty Eight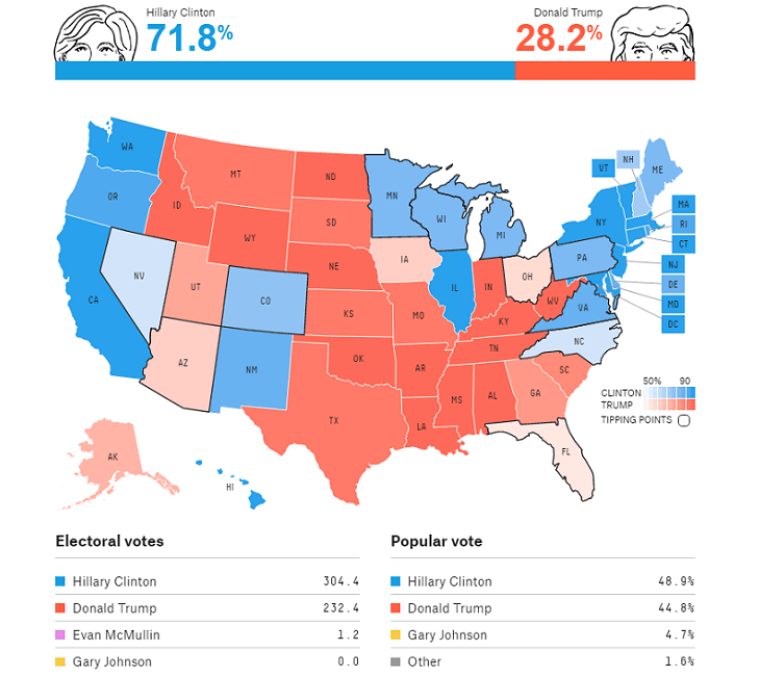 The site FiveThirtyEight predicts a Clinton victory, with the Democratic Party nominee being given a 71.8 percent chance of victory, in contrast to Trump's 28.2 percent chance of victory.
However, the chance of victory given to Clinton is considerably lower than it was a couple weeks ago when the site gave her an 86.2 percent chance of winning.
According to the current map accessed Tuesday afternoon, Clinton will get 304.4 electoral points, Trump will get 232.4 electoral points, and independent conservative Evan McMullin will get 1.2 electoral points.
Regarding the popular vote, Five Thirty Eight predicts that Clinton will get 48.9 percent, Trump will get 44.8 percent, Libertarian Party nominee Gary Johnson will get 4.7 percent, and 1.6 percent of the popular vote will go to others.
These figures are also smaller for Clinton than they were last week, as the site previously predicted she would get 332.4 electoral points and 49.5 percent of the vote.