26 World Leaders Pledge to Stop ISIS as US Launches New Airstrikes in Iraq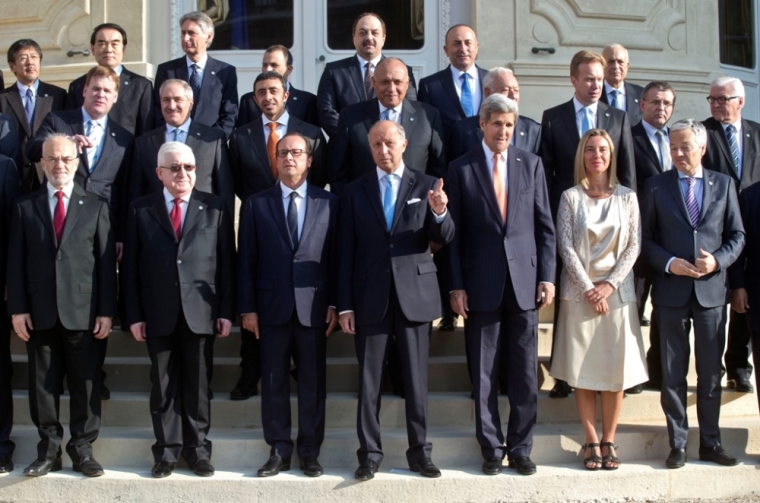 Twenty-six foreign ministers pledged that their countries will do everything necessary to stop terror group ISIS during a major summit in Paris on Monday. The meeting came as the U.S. launched its first airstrikes in Iraq since President Barack Obama's announcement last week the expansion of operations.
French President François Hollande said that there is "no time to lose" in the fight against the Islamic militants, who have captured several cities across Iraq and Syria, carrying out beheadings and mass persecution of religious minorities.
"The cost of inaction would be to say to these butchers 'go ahead, you have a free pass.' We won't accept that," added French Foreign Minister Laurent Fabius.
British Prime Minister David Cameron again spoke out on the beheading of aid worker David Haines, and said that the U.K. will "hunt down those responsible and bring them to justice no matter how long it takes."
BBC News meanwhile reported that the U.S. military destroyed an ISIS target southwest of Baghdad, five days after Obama announced that the target is to "degrade and ultimately destroy" the terror group.
"The airstrike southwest of Baghdad was the first taken as part of our expanded efforts beyond protecting our own people and humanitarian missions to hit ISIL targets as Iraqi forces go on offence, as outlined in the president's speech last Wednesday," U.S. Central Command said.
American fighter planes have carried out more than 160 airstrikes across Iraq since August.
While Obama, Cameron and other world leaders have insisted that their operations in Iraq and Syria will not involve combat troops on the ground, Col. Richard Kemp, the former commander of U.K. forces in Afghanistan, said that such a move might be inevitable if the airstrikes strategy fails.
"If this threat is serious enough to warrant airstrikes against it, and ultimately the strategy of using local forces on the ground doesn't work, then it must be serious enough to deploy our own forces," Kemp said.
An Obama administration official told Fox News that the U.S. could retaliate against Syrian President Bashar Assad's air defenses if they were to target American planes, which are set to launch airstrikes in the country against ISIS in the near future.
The official, who wasn't named, said the U.S. has a "good sense" of where the Syrian air defenses, along with their command and control centers, are located.
White House spokesman Josh Earnest also spoke out on the possibility of Syrian air defenses targeting American planes, but said that there will be "rules of engagement that are related to any military orders the president directs."
"It won't surprise you to know that there are contingencies related to self-defense when it comes to these sorts of rules of engagement," he said.
The U.S.-led coalition that has said it will stand up to ISIS has also been strengthened by the Middle East, with 10 Arab countries pledging to help in the conflict last week.
"The region recognizes the danger that has been unleashed and they are full-throatedly ready to deal with that and that is why they committed today to take the actions they have committed to," Secretary of State John Kerry said after a meeting with representatives from the countries.