4 Takeaways From Trump's UN Speech: Warns of 'Chaos, Death and Destruction'
1. America, World 'Thankful for the Glory of God'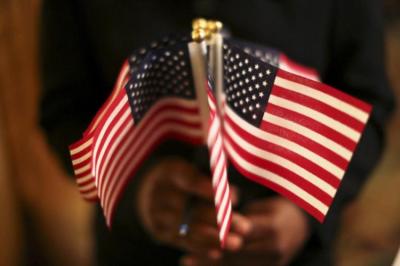 A woman holds a cluster of U.S. flags during a U.S. Citizenship and Immigration Services naturalization ceremony.
Although it drew him some laughs at the beginning of his speech, which he seemed to take in good nature, Trump hailed the accomplishments of his administration and America's works both abroad and at home.
"In America, we believe in the majesty of freedom and the dignity of the individual. We believe in self-government and the rule of law. And we prize the culture that sustains our liberty -– a culture built on strong families, deep faith, and fierce independence. We celebrate our heroes, we treasure our traditions, and above all, we love our country," the president said.
He said that together, people from all over the world should "choose a future of patriotism, prosperity, and pride."
"Let us choose peace and freedom over domination and defeat. And let us come here to this place to stand for our people and their nations, forever strong, forever sovereign, forever just, and forever thankful for the grace and the goodness and the glory of God," Trump urged.
At the start of his speech, Trump said that his administration has "accomplished more than almost any administration in the history of our country," which is the claim that drew some laughs from the General Assembly.
Still, Trump stressed that the U.S. economy is not only booming, but that the stock market is at an all-time high, while jobless claims, including those for minorities, are at a 50-year low.
"In other words, the United States is stronger, safer, and a richer country than it was when I assumed office less than two years ago," he added.
"We are standing up for America and for the American people. And we are also standing up for the world."