4 Takeaways From Trump's UN Speech: Warns of 'Chaos, Death and Destruction'
3. Historic Peace With North Korea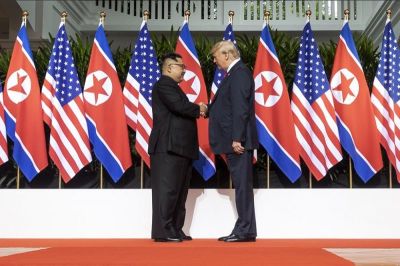 U.S. President Donald Trump (R) and North Korean leader Kim Jong Un (L) on June 12, 2018, shake hands during their widely anticipated summit in Singapore.
Trump lauded one of the most surprising developments of his presidency, when earlier this year he became the first sitting U.S. president to meet with a North Korean leader.
Trump traveled to Singapore in June to meet Kim Jong Un in person, which after months of significant threats from both sides, seemed to subdue tensions.
"We had highly productive conversations and meetings, and we agreed that it was in both countries' interest to pursue the denuclearization of the Korean Peninsula. Since that meeting, we have already seen a number of encouraging measures that few could have imagined only a short time ago," Trump said.
"The missiles and rockets are no longer flying in every direction. Nuclear testing has stopped. Some military facilities are already being dismantled. Our hostages have been released. And as promised, the remains of our fallen heroes are being returned home to lay at rest in American soil."
Trump said that much work remains to be done, and vowed that the sanctions will stay in place until denuclearization occurs.