4 Takeaways From Trump's UN Speech: Warns of 'Chaos, Death and Destruction'
4. Iran Sowing 'Chaos, Death, and Destruction'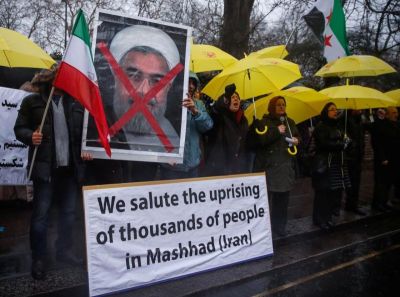 Opponents of Iranian President Hassan Rouhani hold a protest outside the Iranian embassy in west London, December 31, 2017.
Trump reserved his harshest words for the Iranian regime. The latter has repeatedly blamed the U.S. administration of trying to destabilize Iran, and slammed it for withdrawing from the Obama administration's controversial nuclear deal agreement earlier this year.
The U.S. president accused Iran's leaders of sowing "chaos, death and destruction."
"They do not respect their neighbors or borders, or the sovereign rights of nations. Instead, Iran's leaders plunder the nation's resources to enrich themselves and to spread mayhem across the Middle East and far beyond," he said.
"The Iranian people are rightly outraged that their leaders have embezzled billions of dollars from Iran's treasury, seized valuable portions of the economy, and looted the people's religious endowments, all to line their own pockets and send their proxies to wage war. Not good."
Trump said that the nuclear deal had been a windfall for Iran's leaders, and had helped see their budget grow by nearly 40 percent. He argued that Iran has used the money "to build nuclear-capable missiles, increase internal repression, finance terrorism, and fund havoc and slaughter in Syria and Yemen."
He asked the nations of the world to isolate Iran's regime, while supporting Iran's people to reclaim "their religious and righteous destiny."