46-Y-O Florida Pastor Impregnated 10-Y-O Girl, Police Say
46-Y-O Florida Pastor Impregnated 10-Y-O Girl, Police Say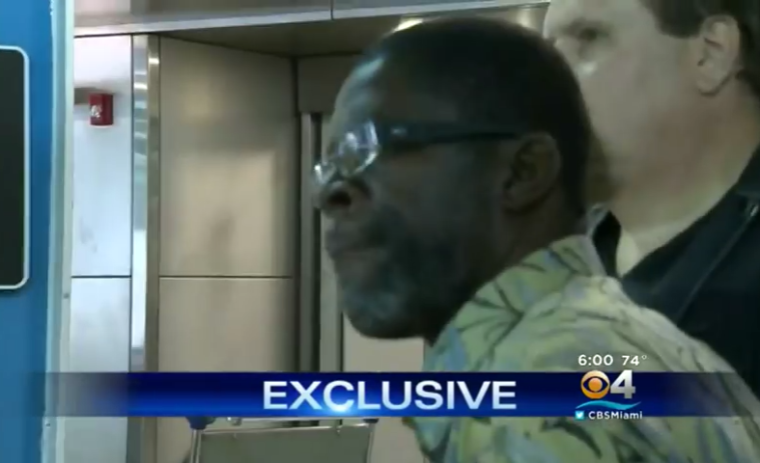 A 46-year-old man who told police he was a youth pastor was arrested by authorities in Fort Lauderdale, Florida last Friday for allegedly impregnating a 10-year-old girl then fleeing to Haiti to escape prosecution for the crime.
According to CBS Miami, the man, Raymond Vincent, was quickly handcuffed on Friday after U.S. Marshals handed him over to Fort Lauderdale police in South Florida after they worked with law enforcement officials in the Dominican Republic, the Haitian National Police and U.S. State Department investigators for several months to capture him.
"If you're a fugitive and you want to be a fugitive and you think fleeing the U.S. is going to save you? Think again," Senior Inspector Barry Golden, a spokesman for the U.S. Marshals said in the CBS report.
He said Vincent was living in a coastal town 180 miles from Port Au Prince and Haitian Police scouted the area for several days before taking him in custody.
The Sun-Sentinel said Vincent was charged with one count of sexual battery on a child and one count of lewd and lascivious conduct.
It was further noted that detectives were first made aware of the crime after they were called to Broward Health Medical Center on Feb. 13 in reference to a sexual battery of a child. The girl was declared pregnant after she was taken in to be treated for stomach pain.
In a police report on one of Vincent's encounters with the girl sometime in December or January, she told police she was asleep on a couch and was awakened when she felt a hand going down her pants.
The report said when she opened her eyes and saw Vincent over her, he quickly pulled his hand from beneath the blanket. He reportedly turned to another child sleeping on the couch and pretended to be adjusting that child's positioning.
Exclusive Op-eds from the Presidential Campaigns
The inappropriately touched girl ran off, however, and locked herself in a bedroom and told her mother. It is uncertain at what point Vincent had sex with the girl and police declined revealing if the girl's pregnancy was aborted.
Court records show that Vincent was accused of molesting another child under the age of 12 in January 2012 after he lured her into his home with food.
The girl reportedly told police that Vincent groped and fondled her and tried to pull her into his lap. Vincent who at the time of that incident told police that he was a youth pastor at a Pompano Beach church was acquitted of molestation charges related to that case according to the Sentinel.
He is currently being held without bond at the Broward Main Jail on the new sex charges.
Golden warned that accused fugitives like Vincent trying to escape prosecution for crime will be brought to justice.
"We're going to track you down and we're going to bring you back to face those criminal charges," Golden told CBS Miami. "That's it and that's what happened in this case to Mr. Vincent."
Anyone with information regarding the investigation is being asked to call Detective Elijah Thomas at 954-828-6093 or Broward Crime Stoppers at 954-493-8477.