5 things to know about the killing of Trump supporter Aaron Danielson in Portland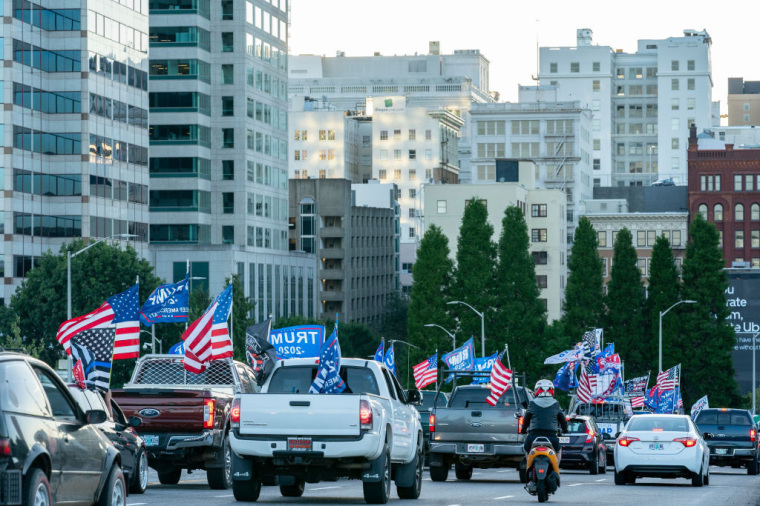 What happened? 
According to Oregon Live, when the caravan of Trump supporters broke down in the city last Saturday, "altercations broke out." 
The pro-Trump caravan marked the third consecutive Saturday that pro-Trump demonstrators and counter-protestors have clashed in downtown Portland. But as The Oregonian notes, last Saturday's clashes were the largest so far. 
The newspaper reports that hundreds of vehicles, many of which displayed Trump and Thin Blue Line flags, as well as American flags, participated in the caravan leaving out of the suburb of Clackamas.
According to a map of the caravan route released by organizers, vehicles were supposed to loop around the city's downtown area on Interstates 5 and 405.
While some went ahead with the route as planned, others broke off and crossed over the Morrison Bridge into the city. 
Portland is full of trash. pic.twitter.com/msoONvQyBG

— Ian Miles Cheong (@stillgray) August 31, 2020
According to earlier reporting by Oregon Live, counter-protesters lined the sidewalks and were in the streets voicing opposition to the presence of the caravan. 
At around 8 p.m., organizers of the caravan called for supporters to leave the city.
After most Trump supporters left the area, Portland police responded to gunshots in the area of Southwest 3rd Avenue and Southwest Alder Street, where they found a man who had been shot and was unresponsive.  The body was later identified by the Multnomah County Medical Examiner's Office as Danielson, a 39-year-old Portland resident who died from a gunshot wound to the chest. 
Video posted online shows an unidentifiable male shouting "I've got one right here," letting others in the area know they had spotted a Trump supporter.
Danielson is seen trying to walk away before being shot and falling to the ground on the street, nearly getting run over by the driver of a car who had to slam on their brakes to keep from hitting him. 
Video also shows a friend of Danielson's rushing over to help him. A woman claiming to be an Antifa Black Block medic, despite not having any medical training, claimed she tried to save Danielson whom she said was still alive before police pushed her aside.
Witness Justin Dunlap told NBC News that he saw the victim face two people when he heard the gunshots. He said that at the time of the shots, he saw pepper spray in the air at the same time. Dunlap said the two people who were facing the victim ran from the scene.