5 Things to Know About YouTube Shooter Nasim Najafi Aghdam: Her Faith, Her Anger, Her Activism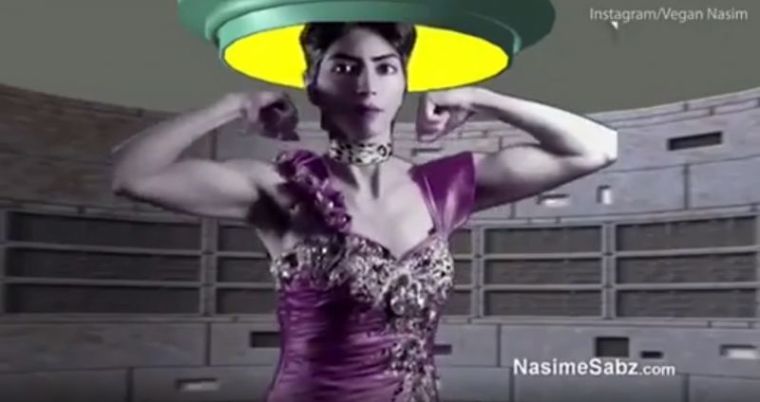 A 39-year-old woman carried out a mass shooting at media giant YouTube's headquarters in San Bruno, California, on Tuesday, wounding three people and reportedly taking her own life with a self-inflicted gunshot.
CBS News reports that the three injured victims have been transported to a local hospital with gunshot wounds, while authorities are looking to find a motive for the shooting.
San Bruno Police Chief Ed Barberini said that the suspect, Nasim Najafi Aghdam, used a 9mm handgun in her attack on employees at the building, who frantically ran out when the shooting began around 12:48 p.m. local time.
Barberini said "at this time there is no evidence that the shooter knew the victims of this shooting or that individuals were specifically targeted."
Here are five things that have come to light about Aghdam, including her angry postings against YouTube, her faith, and her online activism on issues such as veganism.
1. Anger at YouTube
Ismail Aghdam, the suspect's father, told Mercury News that his daughter had been missing for several days before the shooting, and shared details about her anger at YouTube.
He explained that she believed the video company was "ruining her life," accusing YouTube of filtering her personal page and adding age restrictions, which drove down her viewership.
Although Aghdam's YouTube and other social media profiles have been taken down after the shooting, some of her rants were saved in clips.
"They want you to be their sex slaves and not think outside the box they designed for you! Your knowledge is their enemy," the woman said in one video.
She had apparently been attempting to make a living through her YouTube videos, and would post videos speaking and singing in English, Farsi, and Turkish.
2. Baha'i Faith
Aghdam identified as a member of the minority Baha'i religion, which combines elements of the major Abrahamic faiths, and has historically faced persecution in the Middle East.
Aghdam wrote a blog post on the Interfaith Vegan Alliance website about her faith journey, and said that she first attended a Baha'i meeting in January 2015.
"The Baha'i were very welcoming, interested and open to critical discussion," she wrote.
While she doesn't explain at what point she started to identify as a Baha'i, she urges the Universal House of Justice, the religion's central body, to ensure equality between men and women in order to "enlighten the road for humanity."
"There are very few nations, religions, political groups, or corporations that practice what they preach with regards to gender equality," she wrote, slamming what she described as the "male dominant pro-meat eating culture."
3. Vegan Activism
One of the things Aghdam was most passionate about, according to the content of her videos, was veganism and animal rights activism.
The Mirror said that she self-described on her former YouTube page as "the Persian Azeri female vegan athlete and animal rights activist promoting VEGANISM, the healthy and humane way of living."
What is more, Aghdam was pictured at a rally for the People for the Ethical Treatment of Animals group in San Diego in 2009, and put together her own organizations as well.
"Nasim produced and launched the first vegan Persian TV commercial and first Persian animal rights music video (Do You Dare) in 2010, International Persian satellite television, Andisheh TV," her description read.
"Nasim is the well known and most famous animal rights activist in Persian/Turkish community."
4. Iranian Heritage
NBC News noted that the family originally hailed from Iran, but were living as residents of southern California.
According to public records, the woman worked at her father's electrical company, though online she described herself simply as an "artist."
Aghdam made mention of her heritage on a few occasions, and compared the freedom of speech, or lack thereof, in Iran to what she saw as censorship from YouTube and other social platforms.
"When it comes to freedom of speech, do you think that Iran is better than USA or USA is better than Iran?" she asked in one Instagram video where she appeared in a black hood.
5. Quoting Hitler
Aghdam quoted Hitler on at least one occasion in her rants against YouTube and in her postings on activism.
"BE AWARE! Dictatorship exists in all countries but with different tactics!" she wrote on her home page.
"They only care for personal short term profits & do anything to reach their goals even by fooling simple-minded people, hiding the truth, manipulating science & everything, putting public mental & physical health at risk, abusing non-human animals, polluting environment, destroying family values, promoting materialism & sexual degeneration in the name of freedom, & turning people into programmed robots," Aghdam continued.
"'Make the lie big, Make it simple, Keep saying it, And eventually they will believe it' Adolf Hitler. ... There is no free speech in real world & you will be suppressed for telling the truth that is not supported by the system," she added, quoting the infamous Nazi Germany leader.