55,000 Pack Georgia Dome for Passion 2017, Sponsor Over 7,000 Children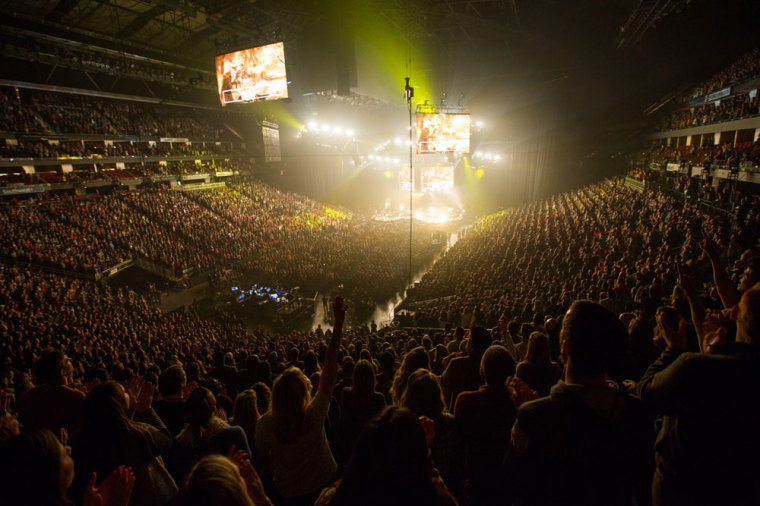 At least 55,000 youth from 90 countries and all 50 U.S. states filled the Georgia Dome for the three-day Passion 2017 conference this week, and made history by sponsoring more than 7,000 children in El Salvador, Rwanda, Tanzania and Indonesia.
Returning to the Georgia Dome in Atlanta for the first time in four years, the annual conference, which draws 18- to 25-year-olds, kicked off Monday and concluded Wednesday, marking one of the final events held at the arena before its planned demolition this year.
The attendees heard from renowned speakers, including Christine Caine, Beth Moore, John Piper, Levi Lusko, Francis Chan and Katherine and Jay Wolf. Worship was led by Passion Band, Chris Tomlin, Crowder, Matt Redman, Christy Nockels and Hillsong UNITED.
The students participated in an endeavor to "Make History Together" by coming together to sponsor more than 7,000 children through Compassion International, fulfilling all sponsorships in El Salvador, Rwanda, Tanzania and Indonesia as well as hundreds in Bolivia.
For the first time, parts of the conference were opened to Passion alumni and adults over the age of 25 in order to celebrate "what God has done in the lives of people during 20 years of Passion," the organizers said in a statement, praising the 2,500 individuals who have volunteered their time as the conference's Door Holders.
The popular event drew some criticism from Christian conservative group American Family Association over its invitation of multi-platinum selling artist Carrie Underwood, who joined Grammy-nominated Crowder on stage on the first day and performed "Something In The Water."
"The most popular headline and image circling social media thus far this week show the performance of Carrie Underwood," AFA Outreach Director Wesley Wildmon wrote in an open letter. "Louie, if I can be completely transparent, I was very frustrated that you would allow her to help lead thousands of people in worship. My frustration quickly turned to disappointment and then to sadness. Carrie Underwood encourages and supports homosexual marriage which the Word of God does not (1 Corinthians 6:12-20)."
The annual conference, which brings young adults from around the globe together to proclaim the name of God, grew out of a Bible study started in Texas 20 years ago by Louie Giglio, founder of the Passion Movement and pastor of Passion City Church in Atlanta, and his wife Shelley Giglio.
The conference has been able to raise more than $17 million for various philanthropic efforts over the years. Students have also continued to fight modern-day slavery through support of The END IT Movement and have gathered tens of thousands of new towels and socks for local Atlanta homeless shelters.
Passion's 2018 conference will be held in Atlanta's Philips Arena.