6 Interesting Facts About the Christian Faith of Jeb Bush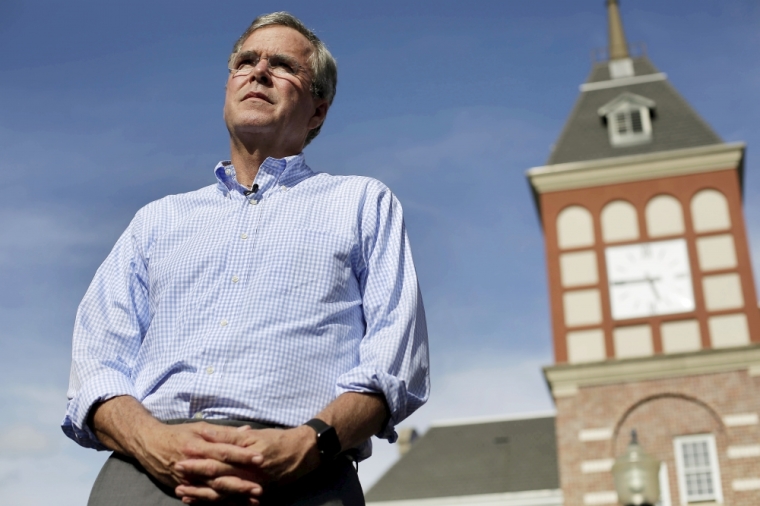 A two term governor of Florida and a son and brother of former presidents, Jeb Bush officially announced his own quest for the White House at Miami Dade College in June. Generally perceived as fluent in Spanish and appreciated by Latinos, proponents of Bush are quick to claim that the skill is a valuable trait for the general election against Democrats.
Bush is well known for education reform in Florida where he increased voucher and school choice opportunities for public school students in Florida.
A new CNN Poll released Tuesday shows Jeb Bush in second place at 13 percent, well behind Donald Trump who is currently polling almost a quarter (24 percent) of the Republican vote.
Bush's son, George P. Bush, 39, is currently serving as commissioner of the Texas General Land Office.
Below are six interesting facts about the Christian faith of George P. Bush:
1. Jeb Bush was officially received into the Roman Catholic Church at an Easter vigil in 1995.
A story in The New York Times in March quotes Bush as saying, "My wife is Catholic and we always went to mass, so she was my principal motivation."
Before that Bush was Episcopalian like his father President George H.W. Bush. The former Florida governor has said he found Christ prior to his Catholic conversion.
2. While governor, Catholic Bishops unsuccessfully tried to get Jeb to drop his support for the death penalty.
"Anybody could see he was a devout Catholic — he was new to the Catholic faith and his faith seriously," said Bishop John H. Richard, formerly head of the Pensacola–Tallahassee Diocese. "He approached the whole thing, especially the death penalty, with seriousness and respect, but we just agreed to disagree."
3. In 2015, Bush delivered the commencement address at Liberty University where he heavily criticized the Obama administration's handling of religious liberty.
In referencing the Obama administration's battle against the Little Sisters of the Poor, covered by the Christian Post, Bush noted the aggressive executive department's posture against the nuns:
"That case continues, and as usual the present administration is supporting the use of coercive federal power," declared Bush.
"What should be easy calls in favor of religious freedom, have instead become an aggressive stance against it. Somebody here is being small-minded and intolerant, and it sure isn't the nuns, ministers, and lay men and women who ask only to live and practice their faith. Federal authorities are demanding obedience, in complete disregard of religious conscience — and in a free society, the answer is no."
4. Bush has stated that Christian faith should influence policy.
If elected president, Bush would be the second Roman-Catholic in American history to ascend to the White House. Unlike, John F. Kennedy, the first and only Catholic president, who famously stated his Catholicism would not influence his policies, Bush stated at the Faith & Freedom Coalition's Road to Majority, saying, "That is not me."
5. The Washington Post published an editorial in 2015 titled "Jeb Bush's Eloquent Defense of Christianity."
Kathleen Parker, the author of the piece, praised the former Florida governor following his commencement address at Liberty for the depth of his thought regarding Christianity.
"In a culture more attuned to the grits-'n'-gravy style of a Mike Huckabee, it is rare to hear Christianity discussed in such elevated terms," declared Parker.
6. Bush co-wrote Profiles in Character in which he dedicated the book to his family and God.
The book, which premise comes from John F. Kennedy's Profiles in Courage, dedication reads in part, "to God, whose divine and guiding light is the ultimate means of virtue."