6 Police Officers Arrested for Beating Christian Teen to Death in Pakistan, Activists Say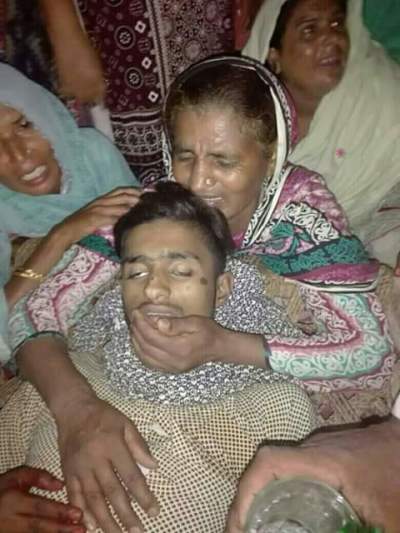 Six police officers in Pakistan have been arrested and charged with murder after they allegedly beat to death a Pakistani Christian teenager earlier this month, according to human rights advocates.
The London-based charity British Pakistani Christian Association reported that the six officers accused of killing 17-year-old Arslan Masih in the town of Sheikhupura in the Punjab province of Pakistan have been charged under sections 148, 149 and 302 of the Pakistani penal code.
Masih, who was a student at Ideal Science Academy, reportedly got into a fight with a Muslim bully when the bully pressured him to convert to Islam. According to BPCA, Masih won the fight. However, the Muslim bully's uncle was a local police officer.
BPCA reports that on Oct. 9, the boy's uncle, Constable Sardar Bilu, went to Masih's school with five of his colleagues and confronted the teen. Although Masih apologized for fighting the man's nephew, his apology did not suffice.
The police officers demanded that Masih leave the school and go with them to the police station. Although a teacher tried to intervene to protect Masih, the officers allegedly abused and slapped the teacher. After Masih tried to stop the officers from beating the teacher, he became the focus of the assault.
According to BPCA, Masih was beaten with lathis and pistol whipped in front of his classmates. After the police officers dropped Masih's body on the side of the road, the unconscious Masih was taken to a medical clinic where he was announced dead on arrival.
"Arslan was attending classes at the Ideal Science Academy when Head Constable Imtiaz, driver Rashid, Constable Arshad and other unidentified policemen kicked open the door and dragged him out of the classroom," Mushtaq Masih, Arslan's father, told BPCA. "Sardar, alias Bilu, a police constable, helped them to identify the boy. The band of police officers started beating Arslan with fists, kicks and rifle butts and Arslan was in visible pain and was screaming for the men to stop."
"PC Rashid struck Arslan's head with a pistol which created a bleed," the father added. "When they bundled him into the police van, Arslan collapsed and died. Later the police team threw Arslan's body on the roadside and fled."
Bilu and his colleagues were charged with aggravated murder, rioting with deadly weapons and unlawful assembly, BPCA reported.
"Police have cooperated well with the family and the academy teacher, Arslan Farhan Taj, has registered an FIR of terrorism against the culprits," BPCA officer Mehwish Bhatti said in a statement.
"We have supported the family with a payment of £100 to cover the funeral cost for Arslan Masih and with advice, moral support and counseling. We remain in touch with the family and will continue to provide assistance where required."
Masih's murder comes as Pakistan ranks as the fourth-worst nation in the world when it comes to Christian persecution, according to Open Doors USA's 2017 World Watch List.
"Arslan is the fifth Christian to have died in police custody in Pakistan since the inception of the BPCA. What is most alarming about this account is that he did not commit a crime and was on his college premises at the time, where hundreds of eyewitnesses observed his murder," BPCA Chairman Wilson Chowdhry said in a statement. "The displayed audacity of police officers in this attack reminds us how corrupt and unfit for its purpose the police force of Pakistan is."
"Even if justice is served and the guilty police officers are convicted for Arslan's murder, it will not bring back this teenager's life," Chowdhry continued. "His family will never see the gleaming eyes of a son who was determined to make something of his life and was progressing towards a bright future."
Chowdhry added that there are still no "progressive changes to policing structures and monitoring,"
"With protocols and policies that are largely ignored, all that Christians and other minorities can expect in the future is further heartache," Chowdhry said. "This paints a very bleak future for minorities in Pakistan who face the most discrimination and persecution from statutory services. If anything, confidence in the police from minorities in Pakistan has reached its lowest ebb."
Masih's death follows the death of Sharoon Masih, a Pakistani teenager who was beaten to death by his classmates in August.
BPCA is now accepting online donations that will be used to help persecuted Christians in Pakistan and India. Specifically, BPCA is looking to cover the Masih family's legal costs and is also looking to provide the family with a safe house because Christian families are often threatened into dropping charges against Muslims in Pakistan.
BPCA has also launched a petition calling for reforms to be enacted by Pakistan's police forces to ensure that religious minorities are protected.