60 Dead in Israel's 'Heaviest' Shelling on Gaza; Israel's Fiercest Attack Since 1967 Mideast Conflict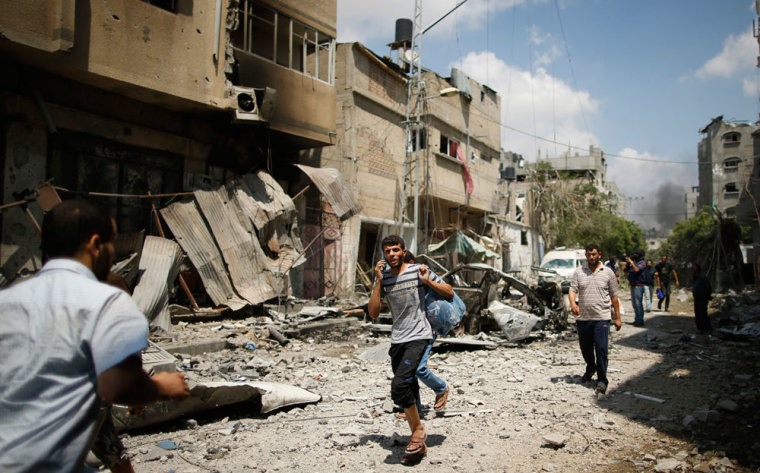 At least 60 Palestinians were killed and hundreds others were wounded Sunday as Israel shelled a Gaza neighborhood, causing thousands to flee. It is being seen as Israel's fiercest attack since the 1967 Middle East war.
Sky News correspondent on the ground in Shaja'iya reports that Palestinians were fleeing without much more than the clothes on their backs – some even by foot.
"This is a very heavily populated residential area," said Sky News' Sherine Tadros.
"We have seen hundreds upon hundreds of people leaving and they are not carrying bags packed with clothes, they are not carrying anything. They are literally running for their lives."
The shelling on Sunday was the heaviest since Israel began its attack in the region on July 8 following an increase in cross-border rocket strikes by militants.
An Israeli military spokeswoman said Sheja'iya residents had received recorded messages two days ago to evacuate the area in order to protect their lives. Gaza Strip's armed group Hamas had told people across the territory not to heed the Israeli warnings and abandon their homes.
"The gate of hell has opened, and shrapnel came through the windows," The Associated Press quoted local resident Jawad Hassanain as saying. "The house shook, so I took my mother, my children, my brother as well, and we started seeking refuge in a nearby building."
The resident added: "From 12:30 a.m. until 4 a.m., all you could hear is heavy bombardment, the smell of fire and the smell of death. By 4:30, and after the call for the prayer, we were able to get in an ambulance."
According to Al Jazeera, the Palestinian death toll has reached 400 over the last 13 days. It said those killed on Sunday included the son of senior Hamas leader Khalil al-Hayya, Osama, his wife Hala and their two children.
Two Israelis – a soldier and a civilian, have also been killed since July 8.
Israel and Hamas have been exchanging rocket fire over Gaza for the past couple of weeks. Tens of thousands of people are also said to have fled the Gaza strip and reached United Nations shelters, after Israel warned citizens of the incoming offensive.
Sky News reports that Naftali Bennett, Israeli economic minister, told the publication that Hamas was using the most vulnerable civilians as human shields.
"The only difference between us and Hamas in Gaza is that they are deliberately sending their women and children to stand next to missile launchers in order for them to get killed and then they cry to the world that they are being killed," he said.
"This is cynical and cowardly. Israel has all the right to defend itself."
"They started this, they are continuing this, this can all go away the moment they disarm themselves and stop shooting us."
Israeli troops entered Gaza Thursday after more than a week of airstrikes failed to halt unrelenting Palestinian rocket fire that has increasingly targeted major Israeli cities.
While Israeli officials have made it their mission to strike down Hamas terror targets, they have not yet said how long the operations will last and if Israeli troops will remain in Gaza.
Hamas has warned that its forces will not be backing down from the ongoing conflict.