7 new faith-based films coming to theaters, VOD this summer and fall
'Queen Esther' – Sept. 4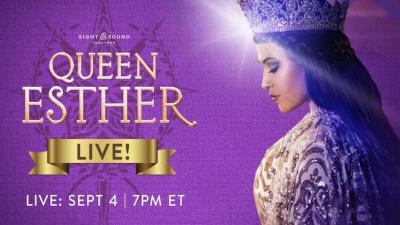 Sight & Sound Theaters will present its first-ever live worldwide broadcast of "Queen Esther" after its stage production was canceled earlier this year due to lockdown orders in response to the novel coronavirus. 
The live performance will be available to watch on Sight and Sound's new streaming platform sight-sound.tv on Sept. 4 at 7 p.m. Eastern time along with other stage productions by Sight & Sound Theaters on Labor Day weekend. 
Some 434 performances of "Queen Esther" had been scheduled for its nine-month run in the 2,000-seat theater at Sight & Sound's studio in Pennsylvania before it was forced to halt the production after its premiere in March. The show had sold over 550,000 tickets but after Gov. Tom Wolf issued executive orders limiting indoor gatherings the theater was forced to cancel its performances. 
"This year has been incredibly challenging, but we continue to see the faithfulness of God each step of the way," Katie Miller, corporate communications manager of Sight & Sound, told CP earlier this month. "After canceling over 200 shows, and knowing that hundreds of thousands of people would not be able to experience the powerful message of 'Queen Esther,' we knew we had to do something." 
"With the future still uncertain, not knowing when we will be able to welcome full crowds again, we prayerfully began walking toward the idea of the first-ever live broadcast of a Sight & Sound show," Miller continued. "We are so thrilled to be taking this next step of extending the ministry beyond our walls and offering 'Queen Esther Live!'"