7 Trump Accomplishments That Evangelicals Like
7. Jerusalem proclomation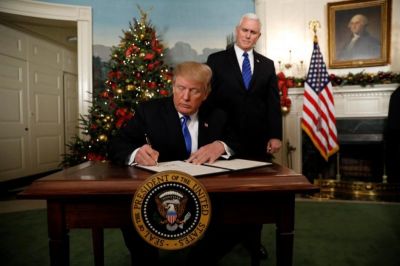 Most recently, Trump earned the praise of evangelical leaders when he announced earlier this month that the U.S. would recognize Jerusalem as Israel's capital and that the U.S. Embassy would be moved there from Tel Aviv.
Although many around the world, including some U.S. allies and Middle Eastern Christian leaders, have condemned the move, it has pleased many American evangelicals.
Former Arkansas Gov. Mike Huckabee told Fox News that the move was something that the U.S. "should've done a long time ago."
"This is where the Jewish state should have its undisputed capital," Huckabee said, calling it "the right thing to do."
Other evangelical leaders, such as James Dobson, offered their statements of praise.
"Throughout the years, I have had the great privilege of serving and advising political leaders at all levels of government, and yet, I have witnessed many promises made concerning Israel that were never fulfilled. With the decision to formally recognize Jerusalem as the capital of Israel, President Trump stands apart, once again demonstrating that he intends to keep his promises to the American people," Dobson said.
"I am greatly encouraged by this declaration and believe that America is always stronger when it stands firmly behind its allies, especially when it comes to the Jewish people and the land of Israel. Please join me in praying for continued wisdom for President Trump and this administration, and for a lasting peace in Israel and throughout the Middle East."
It's also important to note that while many Democrats are condemning the move, just six months ago they supported recognizing Jerusalem as the capital of Israel.
In June, the U.S. Senate unanimously passed a resolution declaring that Jerusalem is the capital of Israel.
With a vote of 90–0, both Republicans and Democrats in the upper chamber agreed that: "Jerusalem should remain the undivided capital of Israel in which the rights of every ethnic and religious group are protected."