7 Trump Accomplishments That Evangelicals Like
1. Nominating Neil Gorsuch to the U.S. Supreme Court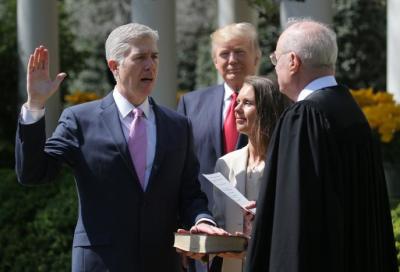 There was arguably no more important issue to conservative evangelical voters going into last November's election than appointing a staunch constitutionalist to fill a Supreme Court seat left vacant by the death of the late Justice Antonin Scalia.
Evangelicals and social conservatives desperately wanted a justice to be nominated who could be counted on to side with conservatives in cases involving abortion and religious freedom. Many knew that if Democrat Hillary Clinton were to win the election, they would get the exact opposite and would further tilt the balance of the court to favor the political left's social agenda.
During the campaign, Trump vowed to nominate a strict originalist jurist and even produced a shortlist of nominees, a list that was praised by many conservative activists and pro-life leaders.
On Jan. 31, Trump nominated Neil Gorsuch, a U.S. 10th Circuit Court of Appeals judge who had previously sided with Hobby Lobby against the Obama administration in a 2013 contraception healthcare mandate case. By April, Gorsuch was confirmed by the Senate.
Gorsuch's nomination and confirmation was roundly praised by evangelical and social conservative leaders, even those who had expressed their concerns about Trump.
"He is a brilliant and articulate defender of constitutional originalism in the mold of the man he will replace: Justice Antonin Scalia," Russell Moore, president of the Southern Baptist Convention's Ethics & Religious Liberty Commission, said in a statement after the Gorsuch nomination. "His career is one that exemplifies the very best of intellectually robust conservatism, judicial restraint and faithfulness to the Constitution. I heartily support President Trump's excellent appointment."