7 Unexpected Reactions to the Tragic Violence in Charlottesville
Duke Chapel Lee Statue Vandalized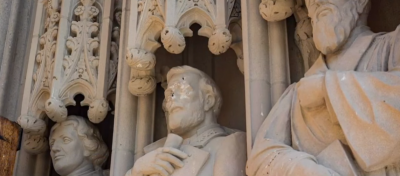 One week after the Charlottesville violence, a statue of Confederate Gen. Robert E. Lee at the Duke Chapel of Duke University in Durham, North Carolina, was vandalized.
"The damage to the face of the statue was discovered early Thursday,"  the campus publication Duke Today reported on Aug. 17.
"Duke officials are investigating, including a review of video from inside the chapel. Security has been increased around the chapel as well."
Soon after the vandalism, the Lee statue was removed. Duke President Vincent Price said in a letter to the campus community that it was taken out of the chapel "to ensure the vital safety of students and community members who worship there, and above all to express the deep and abiding values of our university."
"We have a responsibility to come together as a community to determine how we can respond to this unrest in a way that demonstrates our firm commitment to justice, not discrimination; to civil protest, not violence; to authentic dialogue, not rhetoric; and to empathy, not hatred," Price said.