70-Y-O Christian Woman Who Overcame 5 Suicide Attempts Gets 'Miracles' From Church After Fire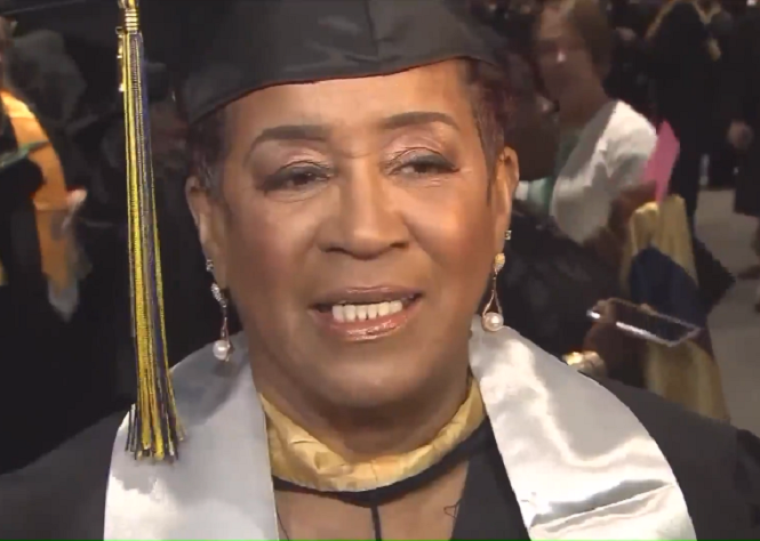 A 70-year-old great-great-grandmother from North Carolina who overcame addiction, sexual assault and five suicide attempts to graduate from college for the first time last spring, is now thanking God for "miracles" after she lost all her belongings in a fire last Thursday.
Thanks to help from her church family Shirley Fuller, who received her associate degree in applied science in business administration from North Carolina's Wake Technical Community College last May, says she now has more than enough clothes to wear after the fire left her with just the clothes she had on her back.
"God's been good," Fuller told ABC 11. "(The closet is) full, it's packed. But it's still more coming."
Fuller, who is getting ready to graduate with a second degree from Wake Tech in criminal justice this May, described how the fire that destroyed four units at her apartment complex swallowed up her home.
"I'm looking at this fire climbing the walls like its got feet," she said.
"I was in shock this morning, just seeing all this black smoke. I had to come out because the smoke was so thick. The smoke was as black as my shoes. I'm not only homeless, but all I have is the clothes on my back," she explained at the time of the fire.
She is now staying in a temporary Red Cross-funded housing at a Capital Boulevard hotel.
Despite her loss in the fire, the former paralegal who battled the desire to end her life five times and harbors dreams of attending law school, said she has no plans to allow a fire to stop her from getting her second degree.
"God has always been there for me," she told ABC 11. "And I refuse to not believe that he's gonna be here for me now."
Fuller, who told ABC 13 that she was the only girl among 10 siblings, explained that she went to high school at the Henderson Institute, but got married in the 10th grade.
She had to leave high school to raise her family but was able to return to her studies when her three children were young. She graduated high school in her 20s in 1969 in the top 10 percent of her class and went on to work as a paralegal. She was never able to get a college degree until last year.
Fuller's unyielding faith and determination has been such an inspiration that a man who was touch by her story offered to replace all her school supplies destroyed by the fire including notebooks, binders, pens, and a new laptop and printer.
"Oh, God," Fuller said when she heard the news. "That is so kind! That is what helps me get through school is the printer and the computer. Thank you isn't going to [be] enough for anything anyone has done for me. All I can say is I hope and pray that God blesses them for what they do for me."
A GoFundMe campaign is now seeking to raise $5,000 for the determined older adult student who plans to attend North Carolina Central University for her bachelor's degree after her graduation and then law school.