8-Y-O Boy Found Without Lips, Ears, Genitals in Witch Doctor Sacrifice; Christians Decry Murders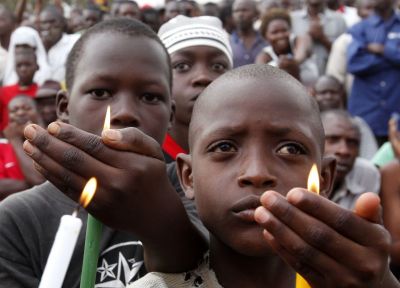 A Ugandan mother has opened up about the horror of finding her 8-year-old son murdered and mutilated in a swamp nearby Katabi, as part of disturbing witchcraft rituals that have been on the rise in the African country.
"My innocent son died a painful death. How could somebody intend to murder my son?" 28-year-old Jackline Mukisa said, according to USA Today.
Her son was found without teeth, lips, ears and genitals back in February.
Mukisa said that her child was killed as part of a human sacrifice ritual performed by witch doctors, though no arrest has been made so far in the case.
A Christian ministry raising awareness for child sacrifices in Uganda said that it is common for children to disappear in the country, only to be found dead, or alive with missing body parts.
"It's a serious problem but we are fighting it with the help of the government," said Pastor Peter Sewakiryanga, who heads Kyampisi Childcare Ministries.
"It's a brutal ritual that destroys the lives of our children and affects their parents mentally," he added. "We are working with the police to arrest witch doctors involved in the ritual. We are also assisting the survivors financially and with moral support."
The ministry says on its website that it is motivated by "faith in Jesus Christ," and looks to "bring freedom from oppression by seeking justice through advocacy and provide physical, emotional and spiritual support to vulnerable children."
Although Uganda is largely a Christian country, witchcraft is still practiced in certain parts and children are the most common victims.
One traditional healer said that people resort to human sacrifices in an effort to appease spirits.
"There is no food due to the ongoing drought, and some believe that this has been brought by ancestral spirits," said Joel Mugoya. "So there is a high desire for people to conduct sacrifices so that they come out of this problem."
Uganda's Anti-Human Sacrifice and Trafficking Task Force said that seven children and six adults were sacrificed in 2015, along with another seven youths and two adults in 2016, though experts believe the real numbers are likely higher.
Several people have confessed to human sacrifice murders, including 21-year-old Busia town resident Herbert Were, who last year admitted to beheading his own 8-year-old brother in the hopes of attaining wealth.
Sewakiryanga shared of another case where his charity worked with police to arrest a witch doctor who killed a 7-year-old girl after he had drained her blood and cut out her genitals.
The witch doctor, who was later sentenced to life in prison, also killed the girl's 10-year-old brother.
MailOnline reported on the rise of witch doctor sacrifices in Uganda back in June 2015, noting that such practitioners manage to convince the country's superstitious elite that mutilating children will bring them wealth.
"It is a gruesome crime against children driven by superstition, religious beliefs, witchcraft and extreme poverty," said Danny Smith, founder of the Jubilee Campaign, which tracks such crimes.
"Ugandans will tell you this is widespread — everyone knows about it — and children are being murdered under the umbrella of superstition," Smith added at the time.
"Witch doctors and traditional healers do very well because they convince them they have to go through different levels of spells — and the most powerful one is the blood of a human child."