87% of Americans who pray say their prayers were answered in the last year: study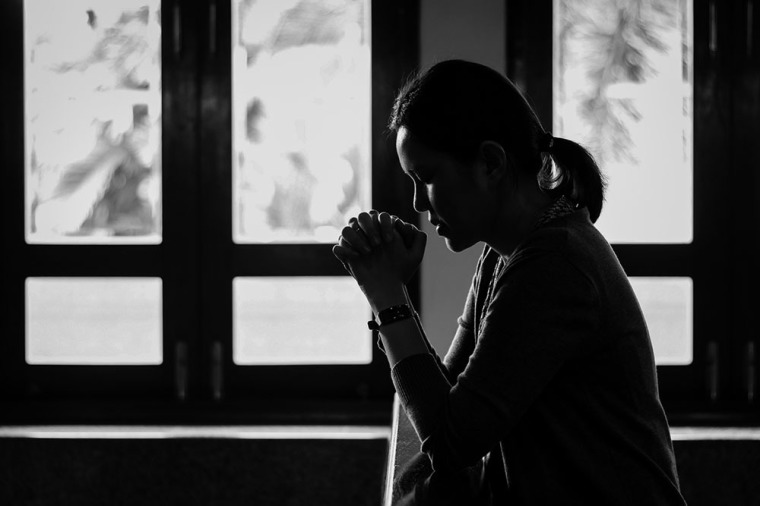 An overwhelming majority of Americans who say they pray have reported seeing at least one of their prayers answered over the past year, according to a new survey. 
The Radiant Foundation released the results of a survey based on the responses of more than 1,700 Americans, coinciding with the annual National Day of Prayer last Thursday. The poll, named the "2023 American Prayer Wrap," showed that 87% of respondents who pray saw at least one of their prayers answered in the past 12 months. 
Additional findings from the survey include data measuring the share of Americans who connect with a higher power at 85%. The most frequently cited methods for connecting with a higher power include prayer (61%), meditation (39%), mindfulness (38%), the recitation of affirmation (30%) and spiritually-based yoga (14%).
According to the survey, the average American prays twice a day and for 18 minutes every day. Eighty-four percent of those surveyed believe God hears their prayers regardless of how they believe. 
The survey identified the most popular time to pray as bedtime (55%), followed by sunrise (50%), night (45%), dinner (29%), the afternoon (27%), breakfast (27%), the commute to work (25%), during a walk (25%), before school or work (20%), during chores (16%) and sunset (15%). The overwhelming majority of Americans engage in prayer by themselves (94%) although majorities also say they pray with their families (67%) and members of their religious or spiritual groups (61%) as well.
Less common prayer companions identified by respondents include pets (50%), friends (40%) and strangers (27%). One out of every four Americans prays at work, with 74% of those who do so citing their workstation as their place of choice for connecting with God. Smaller shares of respondents engage in prayer in the parking lot of their place of employment (42%), in the restroom at work (31%) or at another dedicated space at the office (19%). 
While some Americans elect to pray at work, most prefer to connect with God elsewhere.
Eighty-three percent of respondents reported praying in their bedroom within the past 12 months, while 61% said they prayed in their car. Less than half of those surveyed have prayed at their house of worship in the past year (46%), while even fewer prayed in nature (43%), in the shower (40%), at a cemetery (23%), at a religious shrine (18%), at school (16%), on public transit (14%) and at the gym (11%). 
Most common prayer requests involve the well-being of a loved one during a time of crisis (76%), the health of someone who is ill (71%), other people suffering during a time of crisis (68%) and an individual's own health when they fall ill (56%).
Other occasions where people choose to pray include ahead of a major trip or journey (47%), during a major weather event (45%), before making a major financial decision (38%), in advance of a job interview (33%), before taking a test or exam (30%) and ahead of a presentation or performance (28%). 
The overwhelming majority of respondents told pollsters they pray for their family (85%) while significant majorities pray for their friends (68%) and those in need (62%). A majority of those surveyed pray for their spouse or significant other (52%), while less than half of respondents pray for victims of violence (44%), their pets (32%), those serving in the Armed Forces (24%), religious leaders (23%) and elected officials or world leaders (22%). 
Words people use to describe their state of mind after praying include chastised, humbled, inspired, motivated, loving, calm, connected, answered, accepted, grateful, optimistic, energized, empowered, focused, heard and guided. 
While the highest share of Americans cite a connection with God (70%) as the motivating factor behind their prayer, other reasons for praying include efforts to feel less anxious or depressed (45%), find solutions to their problems (41%), gain a feeling of control over one's life (36%), feel like a better version of themselves (32%), heal from trauma (29%), gain confidence (28%), connect with one's family or community (22%), harmonize with nature or the larger world (20%), gain a sense of energy (18%) or triumph over addiction (12%). 
Additionally, many Americans like to use objects when engaging in prayer, including books (25%), candles or burning objects (19%), a journal (18%), kneeling pads or pillows (18%), rosary beads (18%) as well as icons, images, statues or photographs (18%).
Other objects embraced by Americans during prayer include water (17%), prayer apps (16%), altars or at-home shrines (15%), essential oils (15%), incense (15%), devices for playing music (14%), head coverings (13%), prayer rugs or mats (13%) and prayer shawls or vestments (12%). 
The survey is based on responses collected in April by the Radiant Foundation and Skylight, who commissioned the study in conjunction with City Square Associates, a Boston-based research firm.