National Day of Prayer to reach 110 million households: 'We're praying for an awakening in America'
Rev. Samuel Rodriguez says there are 2 major issues plaguing American society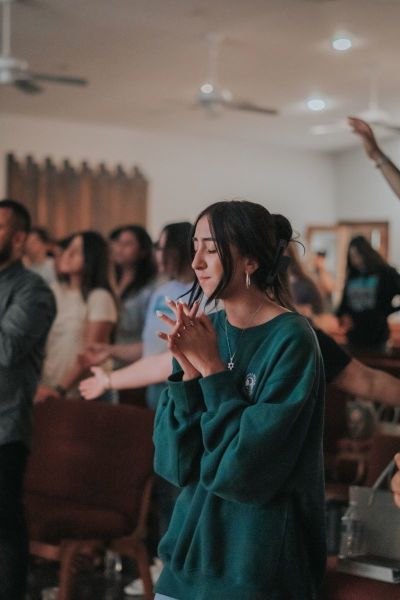 The annual National Day of Prayer broadcast expects to reach nearly 110 million U.S. households through television, radio and online platforms this year.
The annual broadcast, which will focus on James 5:16 and the theme of praying fervently in righteousness, will air for  30 minutes Thursday at 8 p.m. Eastern time on a variety of platforms. 
The broadcast can be heard on Pray.com, the National Day of Prayer Task Force website and  Facebook.com/pray. 
In addition to the broadcast, thousands of in-person events will be held by National Day of Prayer (NDP) Task Force volunteer coordinators in various areas in every state and U.S. territory. 
Co-host of this year's NDP broadcast is the Rev. Samuel Rodriguez, senior pastor of New Season Church in California and president of the National Hispanic Christian Leadership Conference.
Rodriguez told The Christian Post in an interview that National Day of Prayer "is more important now in 2023 than ever before in American history." 
"As a nation, we've never been down this road. It's a road of moral relativism, a road of cultural decadence, unprecedented strife and discord," Rodriguez said. "The 2023 National Day of Prayer carries an incredible amount of spiritual and moral weight as it pertains to the advancement of this idea we call the American experiment." 
"We're praying for an awakening in America. We are praying for unity. We are praying for repentance. We are praying for hope. We are praying for truth, to overcome the lies, for love, to silence hate and for America's problems to become America's testimony." 
Rodriguez said he believes there are two major issues plaguing American society as a whole: protecting children "from architects of darkness" and coming together in unity. 
"Our children and our children's children are targeted by ideological and social constructs that are counterintuitive to God's purpose with respect to life," Rodriguez said. "We are so divided politically. We're so divided culturally. We're so divided ideologically. We must come together around this idea of life, liberty and the pursuit of happiness."
Rodriguez added that he and others will be "asking God to show up," believing that "the most important outcome that we can experience out of this National Day of Prayer is an awakening." 
NDP Task Force President Kathy Branzell will co-host the broadcast with Rodriguez. In a statement, Branzell said she is excited that Rodriguez will be part of the observance. 
"The NDP Task Force has had the privilege of steering and stewarding this day for decades, and we take the responsibility of mobilizing unified public prayer for America very seriously," Branzell stated.
"Reverend Rodriguez is a true prayer warrior, and I am looking forward to locking shields and running into this spiritual battle for the soul of America together — praying fervently for one another, our neighbors and our nation." 
In an Interview with CP, Christian evangelist Nick Hall said the National Day of Prayer "should be a day that focuses on praying for the nation's leaders." 
Hall, founder of the ministry Pulse, an evangelism movement chiefly centered on witnessing to young people with the mission to cause revival. 
"The Bible commands us to pray for our leaders. No matter who's in the White House, we know who's on the throne. And, you know, I pray for President Biden and Vice President Harris every day, and I pray for wisdom. I pray for godly counsel," Hall said.  
"They have a job that I don't think many of us would want. And so, rather than criticizing, I just think we should be praying for them, for their families, for their safety. And for again, God to heal our land," he said. 
Hall added that he prays for them "just like I pray for myself and anybody in my life," noting that "I consider it a huge privilege to be somebody who's born in this country, and I just think more of us need to pray and not criticize." 
Hall told CP that he has partnered with the NDP organization for roughly 15 years and plans to do two different events for this year's observance. 
"We are really trying to rally believers to unite to pray for revival. I think it's an opportunity that we should make the most of. We're excited and we love National Day of Prayer," Hall said. "We love the whole National Day of Prayer Task Force, and we really believe that God is moving. And when God is moving, you just throw up your sail and get out of the way." 
Hall added that he believes the National Day of Prayer is significant because "it is a unique day in America our government has set aside a day and asked us to pray."
"For everybody who complains about all the ills and problems of our country, I would say that here's an active day in our nation's calendar where we can observe this day of prayer, for God to have mercy and heal our land," he continued. 
"We urgently need God. We need His mercy. We need Him to change us and so, I would just encourage everybody to take heart and make the most of this opportunity." 
Pray.com co-founder Matt Potter, who helped with the production of the pre-recorded broadcast, told CP that the National Day of Prayer is important because it's "a reminder to everyone that they need that personal relationship with their Lord and Savior and to be communicating through prayer to our Lord and Savior." 
"It's a great reminder to everyone in the country to pray for their country, pray for their leaders that are making hard decisions every single day and to be praying for their local communities, military and things that they might not pray for every day, " Potter continued.  
Potter said he believes the nation should lift the mental and spiritual health of all Americans in prayer because there is a mental health and spiritual crisis in the United States. 
"We've got a mental health crisis going on in America, which is a tragedy. Suicide rates are continually increasing. And I'm really praying for our mental and spiritual health," Potter said. 
"I'm excited that the broadcast through Prayer.com will reach millions of people around the United States and just remind them to look up and talk to their Savior."