9/11 Remembrance Service Disrupted by Teen Protesting Obama on Syria (VIDEO)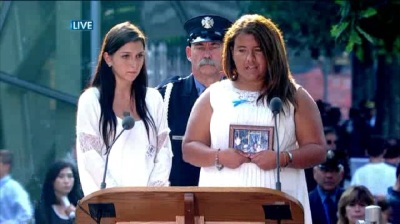 A teenager reading victim names at a 9/11 memorial service used her moment in the limelight to ask President Barack Obama not to start a war in Syria.
At the podium at the 9/11 Memorial at Grand Zero, Brittney Cofresi, 15, read the name of her late uncle before blurting out her opinion for the President.
"Sal Papasso Jr., President Obama, please do not bring us to another war," she said, leaving Papasso's immediate family members confused and angry about what had happened.
Sal Papasso's family is estranged from his widow, Cofresi's aunt, and many of his family members had no idea who Cofresi was.
Tom Papasso told The New York Post that Confresi had no right to mix his brother's memory with anything political.
"My mother saw her reading Sal's name and said, 'Who is that? She had no idea who she is," said Tom. "We were all stunned. It was completely inappropriate to use this day for that. It was not the time nor the place for a political statement."
Confresi claimed that watching Obama's speech the night before about Syria inspired her to speak out against the war.
"I don't have any regrets saying it, because I feel my opinion is important," Cofresi told the New York Post. "I think it took a lot of courage."
Karen Confresi praised her daughter for her actions.
"I'm proud of her," Karen told the New York Post. "She has class and intelligence. She said a message to the president and said 'please.' She didn't say, 'Go Giants!' "
Confresi was three-years-old when the Sept. 11, 2001 attacks took place. Her 34-year-old uncle tragically died in the South Tower of the World Trade Center in New York City.