9 Things That Stood Out at the 2017 March for Life
6. The pro-life generation showed up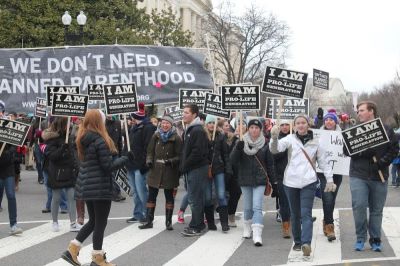 National pro-life organizations, like the Students for Life of America and March for Life Action, frequently claim that the millennial generation is "the pro-life generation" and will be the generation that ends abortion.
The number of college students, teens and children who participated in the march suggest that polling figures that find that millennials tend to hold more pro-life views are accurate.
Quite a few younger-aged participants from across the country traveled with their schools, colleges, churches, students groups, friends and families to the march to speak out in defense of the unborn.
In fact, students at the University of Mary in North Dakota actually led the march and held the giant "March for Life" banner as they walked down Constitution Avenue all the way to the Supreme Court building.
"So much of our generation is missing," University of Mary student Jacinta Swindell told CP. "There are so many of our classmates and people that we could have known or worked with. We are missing so many people because of abortion."
Noelle Martin, a member of a pro-life student group at Central College in Iowa, traveled to D.C. for the march and told CP that she is encouraged so see so many millennials at the march.
"There is a ton of us here," she said. "This is a statement that we want to abolish abortion in our lifetime."