9 Things That Stood Out at the 2017 March for Life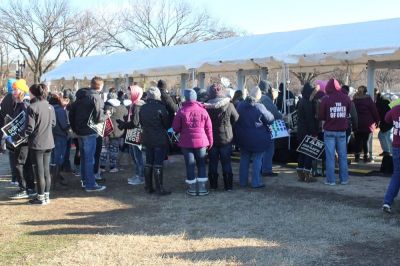 WASHINGTON — Tens of thousands of pro-lifers descended upon the nation's capital to participate in the 44th annual March for Life on Friday. Here are nine things that stood out at the march.
1. Security
One thing that was almost immediately noticeable to anyone entering the March for Life rally area in front of the Washington Monument was the fact that they had to enter through security gates and have their bags and bodies checked by United States Secret Service.
While participants in previous Marches for Life were able to access the rally area with no hassle, the fact that Vice President Mike Pence was one of the big speakers at the rally meant that security was heightened for the 2017 march.
In fact, thousands of participants in the March for Life had trouble accessing the rally area before Pence and Trump adviser KellyAnne Conway gave their addresses because lines were so long. But after Pence spoke, the Secret Service began to tear down the metal detectors and allowed the rest of the crowd to funnel into the rally area.