9 Things That Stood Out at the 2017 March for Life
8. Pro-choice protesters drowned out by pro-lifers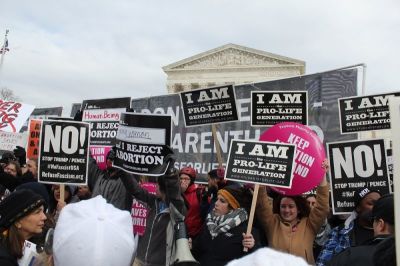 At last week's Women's March on Washington, pro-life protesters were shouted down and even faced some physical aggression from a number of abortion supporters.
But at the March for Life, it was the pro-choice protesters who found themselves in the minority.
Protesters with the Feminist Majority Foundation stood outside the United States Supreme Court building — the location where the March for Life came to an end — and shouted chants of "My body, my choice!" But it didn't take long before pro-lifers stood in front of the pro-choice protesters and began chanting various pro-life chants and making it so it was hard to hear the abortion supporters.
From what this reporter could tell, the back-and-forth between the pro-lifers and pro-abortion protesters was peaceful. However, a couple of independent pro-choice protesters told CP that they were pushed, shoved, kicked and even had rocks thrown at them by a number of male march participants.
"However, a lot of people have been peaceful. I don't want to make it seem like everyone has been like that, there have been a lot of nice people," Casey Constable from New York told CP. "I would say that about 100 people have been very rude, shoving stuff in my face."
"A lot of people have been very nice and I have spoken with many and we have found some common ground on birth control and things like that," Constable's wife, Lilly, added.
Although Constable says that he and his wife were victims of physical aggression, another pro-choice protester who chose to be identified only by her first name, Brooke, told CP that she did not encounter any physical violence.