'90 Minutes in Heaven' Is Stirring, Faithful to Book
Some movies simply give away the subject matter in the movie title ("Titanic"), while others (say, "Bella" or "War Room") leave you guessing as to why the film is named that.
But occasionally there is a movie that carries an attention-grabbing title that makes you think you know all about the film, when in reality you don't. Such is the case with "90 Minutes In Heaven," a faith-based movie that opens in theaters Friday and is based on The New York Times bestselling book by Don Piper, which sold 6 million copies, and recounts his claims of visiting the gates of heaven.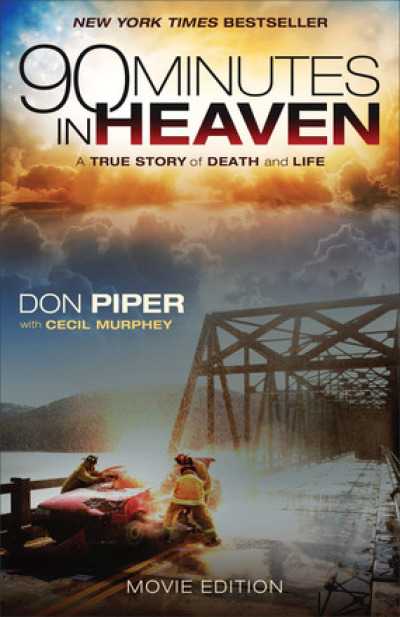 Sure, "90 Minutes In Heaven" is about heaven, but it's not only about heaven. In fact, if you're wanting to get a lengthy visual peak of what heaven may be like, you will be disappointed. That's because the producers – wisely, I think – opted to keep the heaven imagery to a minimum, choosing instead to focus most of the movie on Piper's gut-wrenching recovery from a major car wreck.
Piper's book has become controversial of late, with a major Christian bookstore (LifeWay) opting to pull his and other "heaven-visitation" books, and a few well-known bloggers questioning his claim that he actually visited heaven.
I don't know if Piper visited heaven, but I do know that "90 Minutes In Heaven" is an extremely good movie with plenty of material to inspire and encourage, no matter where you land on the heaven visitation scale. At the same time, it's a film that is faithful to the book and will leave readers pleased. (The book, like the movie, also puts much of the emphasis on his recovery.)
If you're not familiar with Piper's story, here's a brief primer: In January of 1989, an 18-wheeler crushed him and his car on a bridge in Alabama, breaking multiple bones and also stopping his heart. Emergency responders declared him dead, and it was during this time that Piper says he visited heaven.
Amazingly, a pastor passing through the area by the name of Dick Onarecker stopped and prayed over Piper's body, and he began breathing again. That alone is a potent example of the power of prayer.
Piper was alive, but his battle was just beginning. In total, he was in the hospital for 13 months while undergoing 34 major operations. At first he didn't want to live – he later said his afterlife experience made him want to leave this world – but eventually changed his mind following some frank advice from a friend and the prayers of hundreds of people.
It was only toward the end of his recovery that he told someone about his experience. That's how the movie plays out, too. We see a few brief images at the beginning the film of what he says he saw – deceased friends and family at heaven's gate – and then we see similar images toward the film's end. The heart of the movie spotlights his amazing recovery. That's good, because nothing that Hollywood produces can capture the wonders of heaven.
Hayden Christensen (Anakin Skywalker in the recent "Star Wars" trilogy) plays Piper and is simply outstanding. Kate Bosworth ("Superman Returns") plays the role of Piper's wife, Eva, and also turns in a fine performance. Actor/politician Fred Thompson and singer Michael W. Smith also make appearances in secondary roles and do very well, too.
Smith said he originally was skeptical of Piper's story but became a believer, especially after meeting him.
"Is there any way to fully explain it? I don't think anybody can explain heaven," Smith told me recently, referencing not just Piper's story but similar ones like it. "People who are dying and they see themselves on the operating table – I think that's probably happened to people. … I believe Don. I believe his story. … I don't argue with the critics."
It's also worth noting that "90 Minutes" is a dramatically different movie than 2014's "Heaven Is For Real." Different stories, different focuses, different actors. Their only similarity may be the common word ("heaven") in their titles.
The theological debate over heaven visitations is a worthy one that we'll save for another day, although a Google search will deliver a wealth of articles on it.
"90 Minutes In Heaven" is a stirring film that is about far more than heaven, with a firm emphasis on prayer, perseverance and God's healing power.
Entertainment rating: 4 out of 5 stars. Family friendly rating: 5 out of 5 stars.
"90 Minutes In Heaven" is rated PG for thematic material including some medical situations. It contains no sexuality or coarse language. Post-movie discussion topics: the power of prayer; heaven visitation stories; persevering amidst a crisis.
Michael Foust has covered the Christian film industry for a decade and has been a full-time editor and writer for 20 years. He blogs at
MichaelFoust.com