97 Million Eligible Voters Did Not Vote in 2016 Election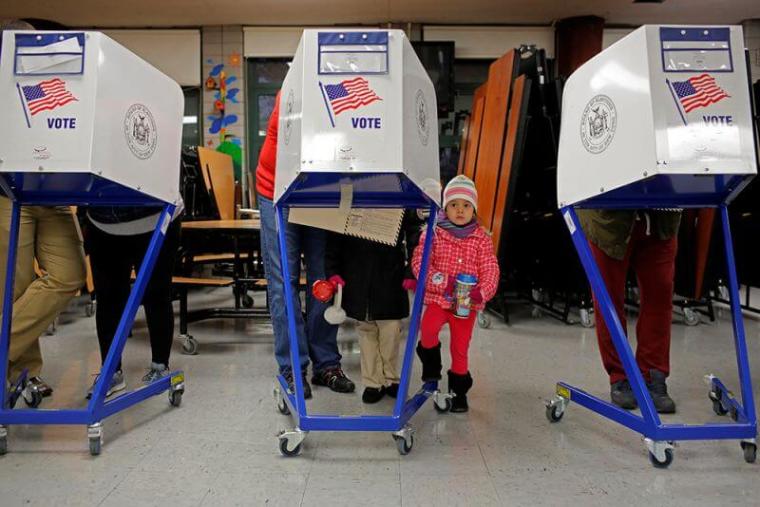 While more than 231 million Americans are eligible to vote, more than 97 million of them did not exercise that right in the U.S. presidential election, according to the current estimate of the United States Elections Project.
With ballots still being counted, the final certified results of voter turnout is not expected to be available for several more weeks.
The United States Elections Project is an information source for the United States electoral system. The project run by Dr. Michael P. McDonald, associate professor of Political Science at the University of Florida, features "timely and accurate election statistics, electoral laws, research reports, and other useful information regarding the United States electoral system."
Current statistics from the project estimate that 231,556,622 Americans were eligible to vote in the 2016 presidential elections. Of those, an estimated 134,457,600 voted. Assuming these numbers are correct, the voter turnout, as the proportion of the voting eligible population (rather than voting age population) is 58.1 percent. 
This means the 2016 voter turnout was about the same as the last presidential election, 2012, when it was 58.6 percent.  
The highest voter turnouts in recent presidential elections were in 2004 (60.7 percent) and 2008 (62.2 percent). The lowest turnouts of the modern era (since WWII) for a presidential election occurred in 1988, 1996 and 2000, when turnout dropped below 55 percent. 
Early results in some of the key states that drove President-elect Donald Trump to his win showed that more voters cast ballots in those states this year than in 2012.
In Florida, 9.5 million ballots were cast, compared to 8.5 million in 2012. Some 4.8 million voters cast ballots in Michigan compared to 4.73 million four years ago, and in North Carolina, the 4.725 million ballots cast last Tuesday was about 183,000 more than the number noted in 2012.
The voter eligible population is not the same as the number of registered voters, which Politico reported in October peaked at an historic 200 million.
An aggressive voter registration drive is said to have been the force behind the landmark number of registered voters which Democrats were hoping would benefit them.
The campaign of 2016 Democratic presidential nominee Hillary Clinton predicted record-setting turnout this fall despite widespread frustration about the tone of the presidential campaign.
"We do expect more voters to turnout in this election than any in our history," Clinton campaign manager Robby Mook told reporters.
That expectation did materialize in the raw numbers, with over 134 million ballots cast. The next highest turnout in presidential election history came in 2008, when 132.6 million people voted to elect the nation's first African American president, Barack Obama. Turnout dipped to 130.3 million when he was re-elected for a second term in 2012.
On Saturday, according to The New York Times, Clinton blamed her loss to Trump on low turnout among Democrats and on F.B.I. Director James B. Comey, who just days before the election revived the inquiry into her use of a private email server.
"There are lots of reasons why an election like this is not successful," Clinton said, according to a donor who relayed the remarks she made on a 30-minute conference call. But, she added, "Our analysis is that Comey's letter raising doubts that were groundless, baseless, proven to be, stopped our momentum."
Comey sent a letter to Congress announcing discovery of additional emails that may be pertinent to the FBI's investigation of Clinton's private server on Oct. 28.
On Nov. 6, the Sunday before Election Day, he announced that the bureau would not charge Clinton with a crime after further review of the emails.
An email to senior Clinton campaign staff from the campaign's head of opinion research Navin Nayak on Thursday blamed both of Comey's letters for the loss, even though the campaign first declared that Comey's second letter showed Clinton innocent of any wrongdoing and would help her win the election.
"We believe that we lost this election in the last week," Nayak wrote in an email sent Thursday night. "Comey's letter in the last 11 days of the election both helped depress our turnout and also drove away some of our critical support among college-educated white voters — particularly in the suburbs. We also think Comey's second letter, which was intended to absolve Sec. Clinton, actually helped to bolster Trump's turnout."