'A Black Hell': 79 Dead in 'Biblical' Greece Fire, Children Hugged Adults as Flames Consumed Them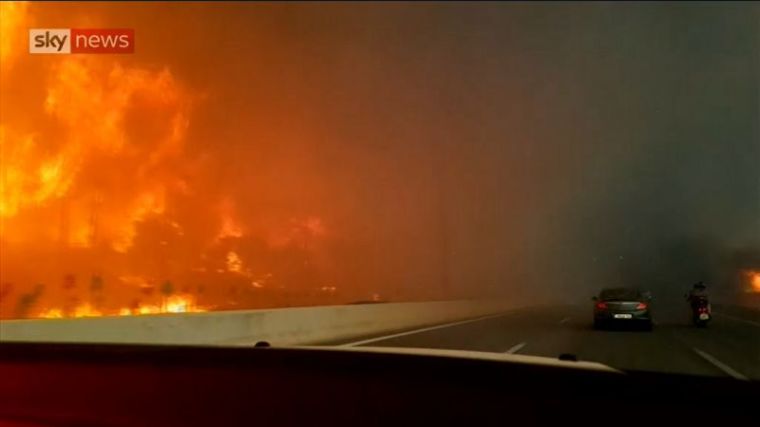 Wildfires raging through Greece have killed at least 79 people and injured 187 as of Wednesday morning, with rescuers finding shocking scenes of children who had embraced adults as the flames consumed them.
Sky News has reported that the death toll is likely to rise as firefighters continue trying to control the flames, while it's not yet clear how many people are missing.
Prime Minister Alexis Tsipras has declared three days of mourning amid the national tragedy, as fires continue to rage near the capital of Athens.
The wildfires, which spread over large areas because of high winds, trapped many in homes and vehicles, with survivors trying to make it to the sea to escape.
Rescue workers came about one particularly tragic scene on a cliff top on Tuesday, where the bodies of 26 adults and children who died embracing each other were found.
"They had tried to find an escape route but unfortunately these people and their kids didn't make it in time. Instinctively, seeing the end nearing, they embraced," said Nikos Economopoulos, head of Greece's Red Cross.
One survivor, Kostas Laganos, told BBC News: "Thankfully the sea was there and we went into the sea, because the flames were chasing us all the way to the water. It burned our backs and we dived into the water ... I said. 'My God, we must run to save ourselves,'" he added.
George Vokas, another survivor whose family managed to flee by sea, said two women he had tried to help died: "We're talking about a biblical catastrophe in this wonderful area of Mati."
Kostas Koukoumakas of Mati also told the BBC: "What is happening here in eastern Attica is a black hell. After I passed by hundreds of burning cars and houses earlier today, I reached the yard where police said so many people had been found dead."
Koukoumakas continued: "I could see some of them lying on the ground as fog covered the place and a toxic smell spread through the atmosphere. Most of them were tourists who had tried to find refuge but did not make it."
Authorities have said that wildfires are not uncommon in the Attica region during the hot and dry summer months, but suggested that the blazes might have been started by arsonists attempting to rob homes.
"Fifteen fires had started simultaneously on three different fronts in Athens," revealed government spokesman Dimitris Tzanakopoulos, adding that U.S. drones have been requested to "detect any suspicious activity."
The Greek Orthodox Church, the largest denomination in the country, is set to play a big part in recovery efforts, ABC 7 noted.
Metropolitan Nathanael Symeonides, the head of the Midwest portion of the American archdiocese, says that donations and supplies are being provided for victims. Special prayers and collections for the disaster will also be organized by the church on Sunday.
"When things like this happen we are reminded that alone we are nothing and we really need strong communities in order to have meaning in life," Symeonides said.
Ecumenical Patriarch Bartholomew I of Constantinople separately declared: "Our prayers intensify and join those of the Archbishop of Athens Ieronymos and the metropolitans of the affected regions."
"May God help to stop this massive human and ecological disaster, whose consequences are undoubtedly incalculable," and give strength to "the families of the victims and the injured," he pleaded, according to Crux.