'A.D. The Bible Continues' Producers Roma Downey, Mark Burnett Share Exclusive Preview of Sunday's New Episode
'A.D. The Bible Continues' Producers Roma Downey, Mark Burnett Share Exclusive Preview of Sunday's New Episode
"A.D. The Bible Continues" is returning to NBC with its eighth episode on Sunday, and series producers Roma Downey and Mark Burnett offered The Christian Post an exclusive preview of what lies ahead.
As a follow-up to Downey and Burnett's "The Bible" series, "A.D. The Bible Continues" features the first 10 chapters of the book of Acts, revealing what would become the most influential movement in history — the rise of the church. The series, which premiered on Easter Sunday, is now gearing up for its eighth installment, and Downey is calling on CP readers to watch this week's episode.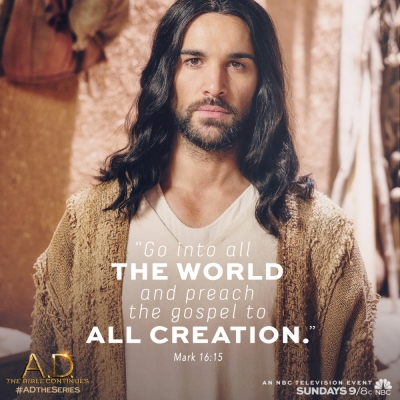 In a taped greeting released exclusively to CP readers, Downey said: "Hello to all our friends at ChristianPost.com. So far we've witnessed the death and the resurrection of Jesus, the disciples restored by His return, and the epic arrival of the Holy Spirit at Pentecost. And now as Peter, John, and the disciples spread the Gospel across Judea, they are met with increasingly brutal persecution by those that will stop at nothing to silence them. Join us this Sunday, you won't want to miss what is about to happen as we race toward the dramatic season finale."
This week will see a turning point for Saul who is on his way to Damascus to persecute Christians. Along the journey, Saul has a life-changing vision and encounter with Jesus that leads to his baptism, thusly becoming Paul the Apostle, one of the most influential figures in biblical history.
"A.D. The Bible Continues" episode eight will air at 9 p.m. ET Sunday, May 24 on NBC. The encore of last week's episode seven will air directly before the new installment.
After each episode of "A.D.", viewers can tune into NBC's first-ever digital talk show, "Beyond A.D," hosted by Jason Kennedy. New guests are featured each week to discuss the television series, and this Sunday's guests will include Michelle Williams, Colton Dixon and Erwin McManus.