Actor Thandie Newton Comes Under Fire for Declaring Atheism, Calling God 'Her' at Emmy Awards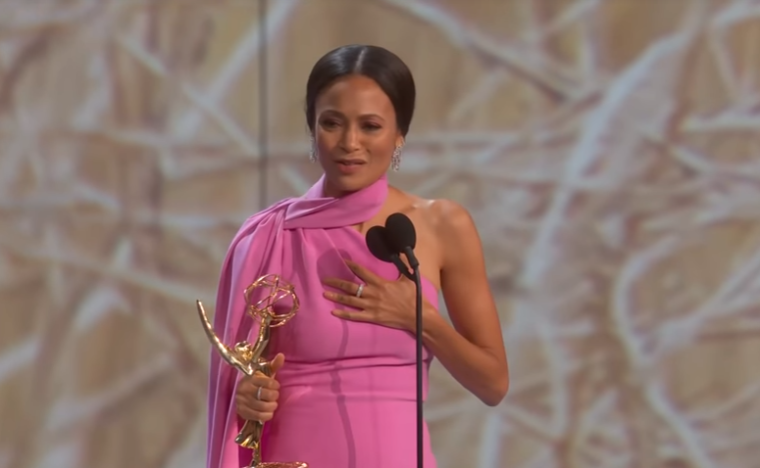 British actor Thandie Newton has come under fire for declaring she's an atheist and calling God "her" at the 2018 Emmy Awards Monday night.
"I don't believe in God, but I'm going to thank her tonight," Newton said in her acceptance speech after winning Outstanding Supporting Actress for her role as Maeve in HBO's "Westworld."
"I am so blessed. I am so blessed," she added before dropping an F-bomb.
Her controversial declaration attracted the scorn of many online, including television host Piers Morgan who said he found what she said "offensive" during a discussion with devout Catholic Ann Widdecombe and religious commentator Rae Duke on "Good Morning Britain."
"Thandie Newton at the Emmys thanked God during her speech despite the fact she's an atheist, which in itself I find very offensive. Why would you do that?" Morgan asked. "What's it got to do with an atheist what we call God? Seriously atheists, keep your big noses out of it."
He added: "It's nothing to do with you. 'I'm an atheist. I've decided God is a her.' Shut up. Honestly, it's ridiculous. It's like me saying I'm an Arsenal fan but I think Tottenham should do this. Nobody cares."
Widdecombe also insisted that referring to God as female is "nonsense."
"I've never heard such nonsense. Throughout the entire New Testament, Christ is a 'He' and Christ refers to God as 'the Father.' And a father, even in this day and age, is a 'He.' But what really worries me is the sheer superficiality of this because the whole objection to calling God 'He' is apparently that it puts people off Christianity. If you're not going to be won over by the message of redemption and forgiveness, you're not going to be won over by somebody saying, 'Oh look, God's a She,'" Widdecombe said.
In a 2011 Ted Talk, Newtown, 45, who is the child of a black mother and white father, said she learned to embrace "otherness" after struggling to fit into a society that she said didn't recognize her for a long time.
"I grew up on the coast of England in the '70s. My dad is white from Cornwall and my mom is black from Zimbabwe. Even the idea of us as a family was challenging to most people. But nature had its wicked way and brown babies were born. But from about the age of 5, I was aware that I didn't fit. I was the black atheist kid in the all-white Catholic school run by nuns. I was an anomaly," she said.
"My skin color wasn't right. My hair wasn't right. My history wasn't right. My self became defined by otherness, which meant that, in that social world, I didn't really exist," she said.
It was through performance and being in touch with her passion for acting that Newton said she found a place where she was able to find a sense of belonging.