Adrienne Bailon Won't Be Getting Married to Fiance of Six Years and Here's Why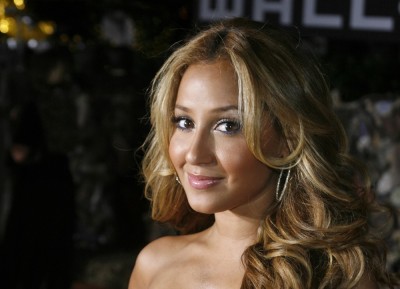 Adrienne Bailon, co-host of "The Real" daytime TV show, recently announced that she broke off an engagement to her boyfriend of six years, music executive Lenny Santiago. Despite the emotional breakup, Bailon says she feels blessed.
"Life lessons are hard but I'm grateful that I have a platform to share my journey and hopefully encourage, inspire, or just let women know they are not alone and to never give up on finding love. I still believe," Bailon told Us Weekly.
Although she's staying positive, Bailon admits that breaking up with someone you're emotionally attached to isn't easy.
"I am, of course, sad that things didn't go as we planned, but we still remain close friends," she said. "Six years is a long time to be together, but we had to make the decision to go with our hearts and not be embarrassed or afraid of change. He absolutely helped make me a better person and I will forever cherish the time we shared together."
Last year, Bailon spoke to The Christian Post about seeking God to overcome emotional trials, such as a breakup.
"It's so funny because in that moment you think you're going to die, you're like 'Oh my God, how am I going to live without this person.' In those moments, cling to God and build your relationship with God," Bailon told CP.
"I love the saying, I believe it's from Maya Angelou, but it's a woman's heart should be so focused on God that a man has to seek Him to find her. It's funny because people in the world even say 'Girl, when you're not looking that's when the right one comes along.'"
Bailon further stressed the importance of forgiveness and letting go of bitterness; she also insists that people will recognize what a good relationship should look like when they're at peace.
"God gives you peace in a situation that's meant for you. I feel like the moment that you don't feel peace, you're not where you should be," Bailon told CP. "Being in a relationship that doesn't give you peace, that makes you not want to sleep at night, that makes you want to go through their phone and all of those things ... that's not God's perfect plan for your life."
It seems Bailon is in a peaceful place, partly because of her job as a co-host on "The Real."
"Funny enough, it wasn't my plan to be a talk show host, but I kept getting these opportunities," Bailon told CP. "I said, 'Lord, if you're opening these doors then I might as well see what's up.' I said, 'God, if it be for me, let it be for me.'"
More than taking part in the show, Bailon told CP that she's blessed to be connected with her co-hosts and fellow Christians, Loni Love, Tamar Braxton, Jeannie Mai and Tamera Mowry-Housley.
"I love that all five of us as believers. Before we walked out on that set every single day, we prayed. I don't know what anybody else's rituals are on other shows but I said there's something so special and so crazy about that," Bailon told CP.
"We pray that God uses us individually to touch somebody, to make somebody laugh, to make somebody say 'Oh my God, I'm not alone!' For a woman that's at home that maybe can't go out with her girlfriends on a daily or even a weekly basis ... she can kick back and watch the show and feel like we are her girlfriends and she can be a part of the show."