DOMA Supporters: Obama Playing Political Games with Marriage Law
A former law clerk to Supreme Court Justice Antonin Scalia charged President Barack Obama with actively sabotaging the federal defense for the Defense of Marriage Act in a Friday Judiciary subcommittee hearing held by House Republicans.
Edward Whelan, who currently serves as president of the Ethics and Public Policy Center, testified that Obama is knowingly playing political games when it comes to defending the federal law defining marriage as a union between a man and a woman. He expressed doubt that the president who is versed in constitutional law could change his stance on gay marriage 180 degrees because a Massachusetts judge chose to rule in favor of gay couples in two DOMA-related cases.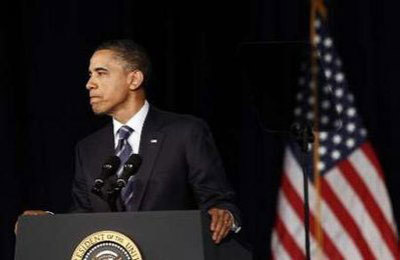 DOMA, which was enacted in 1996 under the Clinton administration, was initially challenged in the cases of Gill v. Office of Personnel Management and Massachusetts v. United States.
Whelan contended, "He would have to be very naive to think that it was anything other than a stealth strategy of step by step by step the administration doing whatever it can to promote same-sex marriage and induce the courts to adopt that approach."
Whelan said he believes that Obama is not naive, but playing an active and underhanded role through the Department of Justice in promoting and implementing the gay civil rights agenda. "The department has only been pretending to defend DOMA while it has been in fact actively sabotaging it," he said.
Whelan's testimony gave voice to past allegations conservative leaders have made about the president and the Department of Justice.
Alan Sears, president of the conservative legal group Alliance Defense Fund, has similarly argued, "The administration has 'expressly disavowed' the winning legal arguments that the Bush Administration had made in previous cases."
Conservative were equally, if not more outraged, when Obama ordered the DOJ to stop defending DOMA in the courts. Obama reportedly based his decision on legal precedents such as the Supreme Court's ruling that laws criminalizing homosexual sexual activities are unconstitutional, the repeal of the military's "don't ask, don't tell" policy, and the rulings of lower courts that have decided that DOMA is unconstitutional. However, conservatives such as Family Research Council President Tony Perkins responded strongly against Obama's logic.
"There is absolutely no excuse beyond pandering to his liberal political base for President Obama's decision to abandon his constitutional role to defend a federal law enacted overwhelmingly by Congress," Perkins said in statement.
Still, Whelan believes that the DOJ's weak defense of DOMA is the greater "scandal."
While Obama has long opposed DOMA and said he was committed to repealing it, the Obama administration has defended it in the courts for the past two years as it is the Justice Department's duty to defend the law. But the appeals filed by DOMA in defending the law have been criticized as "deficient." The appeals have included arguments such as "our society is evolving" and that "there has been a growing recognition that the prevailing regime is harmful to gay and lesbian members of our society."
On Friday, Democrats pushed back, saying that DOMA was a bad policy and that the hearing was held out of hostility toward same-sex couples. Rep. John Conyers (D-Mich.) alleged that those heading the hearing had a known animosity towards the subject of gay marriage. Rep. Trent Franks (R-AZ), chairman of the hearing, responded, saying he had no animosity in his heart.
Rep. Jerrold Nadler (D-N.Y.) asserted, "That is the whole point of DOMA; to stigmatize and exclude" same-sex couples. He also questioned the benefit of excluding gay couples from marriage.
Maggie Gallagher, chairwoman for National Organization for Marriage, contended that it is important for the government to send a positive public message to Americans about the institutional importance of marriage.
"Marriage is a nearly universal social institution," she explained. "Virtually every known human society has recognized that there is a unique need and special interest in bringing together men and women as husband and wives to make and raise the next generation."
Friday's hearing was part of the House GOP effort to defend DOMA. House Speaker John Boehner (R-Ohio) pledged to defend DOMA in the courts since the president told the DOJ to withdraw its defense.