After 100 Days in 2nd Term, Obama's Ability to Get the Job Done Questioned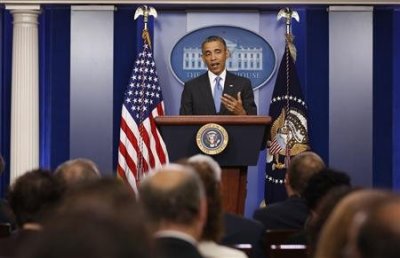 Now more than 100 days into his second term in the White House, President Barack Obama was forced to assure journalists that he still has enough moxie to push his agenda through Congress after attention was drawn to his failure to inspire cooperation in a "dysfunctional" Congress.
"Mr. President, you are a hundred days into your second term. On the gun bill, you put, it seems, everything into it to try to get it passed. Obviously, it didn't. Congress has ignored your efforts to try to get them to undo these sequester cuts. There was even a bill that you threatened to veto that got 92 Democrats in the House voting yes. So my question to you is do you still have the juice to get the rest of your agenda through this Congress?" asked ABC News' Jonathan Karl during a 48-minute news conference at the White House on Tuesday.
Before highlighting the difficulties he was facing in getting his agenda through a divided Congress that has "gummed up" his efforts, however, Obama who appeared somewhat flummoxed by the question invoked Mark Twain.
"Well, if you put it that way, Jonathan maybe I should just pack up and go home," he responded to laughing reporters. "Golly. You know … as Mark Twain said, you know, rumors of my demise may be a little exaggerated at this point."
President Obama then explained that he was confident that he will enact immigration reform, work on revoking the recently effected sequester through a difficult budget deal and was committed to effectively rolling out Obamacare.
His struggles with inspiring bipartisan cooperation, however, were also front and center.
"Look, we – you know, we understand that we're in divided government right now. Republicans control the House of Representatives. In the Senate, this habit of requiring 60 votes for even the most modest piece of legislation has gummed up the works there. And I think it's – comes to no surprise, not even to the American people, but even to members of Congress themselves, that right now things are pretty dysfunctional up on Capitol Hill," he said.
To highlight the dysfunction in Washington to Karl, President Obama pointed out recent legislation he signed into law to end furloughs of air-traffic controllers caused by sequester cuts.
"In order to avoid delays this summer, we're going to ensure delays for the next two or three decades," said Obama.
When asked why he went along with it anyway, Obama shot back.
"Jonathan, you seem to suggest that somehow, these folks over there have no responsibilities and that my job is to somehow get them to behave. That's their job. They are elected members of Congress, are elected in order to do what's right for their constituencies and for the American people," said the president.
In a Washington Post op-ed, however, journalist Dana Milbank said Obama's struggles were a sign that he had lost control of his agenda and his presidency was "moribund" and missing "lively leadership."
"It's never a good sign for a president when he feels compelled to assure the public he still has a pulse," wrote Milbank. "Back in 1995, Bill Clinton assured Americans that he was still relevant; this may be the first time a president asserted that he was still alive."
"Obama is correct about the dysfunction, and the difficulty of passing even uncontroversial bills. But his stance was frustratingly passive, as if what happens in Congress is out of his hands," noted Milbank on the president's response to Congress.
"It's the president's job to lead, and to bang heads if necessary, regardless of any 'permission structure.' Obama seemed oddly like a spectator, as if he had resigned himself to a reactive presidency," he added.