Liberal Christian Allegedly Sent Deadly Ricin to Obama, Judge, Senator
Liberal Christian Allegedly Sent Deadly Ricin to Obama, Judge, Senator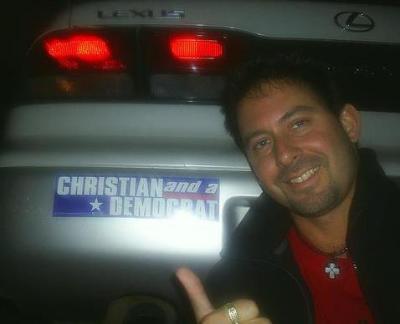 Paul Kevin Curtis, the Elvis Presley impersonator arrested by the FBI in connection with the lethal poison ricin sent in letters to President Barack Obama, a U.S. senator and a judge, is also a self-professed liberal Christian.
"Never been a bench warming church going judgmental hypocrite (ouch...that left a stain on a few I've met in northeast, Ms). I pray daily, treat others how I wish to be treated, lead by example, am always willing to learn & better myself daily," Curtis, 45, notes about his faith on his Facebook page.
"I do my best to help others in need daily. I am sad for the ignorant of the world & pray double for them. A Christian to me...is one who is always willing to admit one's short comings to themself & to God...one who opens his or her own heart up to the "light" that is so seldom shown in this world today. One who strives to be a better, more caring and giving person each day & one who takes steps every day to make the world a better place for our children," he laments.
The Corinth, Miss., resident who has been charged with sending a threat to the president, according to CNN, also notes that he is an Independent voter. In a Facebook photo posted on April 15, however, he happily poses in front of a bumper sticker that reads, "Christian and a Democrat."
In a brief hearing before Magistrate Judge S. Allan Alexander reported on Friday, Curtis was remanded in custody until a grand jury issues an indictment and preliminary detention hearing on April 29.
The criminal complaint against Curtis charges him with "knowingly depositing for conveyance in the mail and for delivery from any post office any letter, paper, writing or document containing threats to take the life of or to inflict bodily harm upon the President of the United States." It also charges him with sending "communications addressed to other persons, and containing a threat to injure the person of others."
Christi McCoy, the Elvis impersonator's attorney, told CNN in an e-mail, however, that "Mr. Curtis vehemently denies the allegations against him."
An affidavit supporting of the criminal complaint against Curtis highlights the mailing of envelopes containing typewritten letters and "a suspicious granular substance" to Sen. Roger Wicker (R-Miss.), President Obama and Justice Court judge in Lee County, Miss., Sadie Holland.
All three letters were reportedly typed on yellow paper and had the message below.
"No one wanted to listen to me before.
There are still 'Missing Pieces'
Maybe I have your attention now
Even if that means someone must die.
This must stop.
To see a wrong and not expose it,
is to become a silent partner to its continuance
I am KC and I approve this message"