After Sri Lanka bombings, 60 Christian refugees flee homes over revenge threats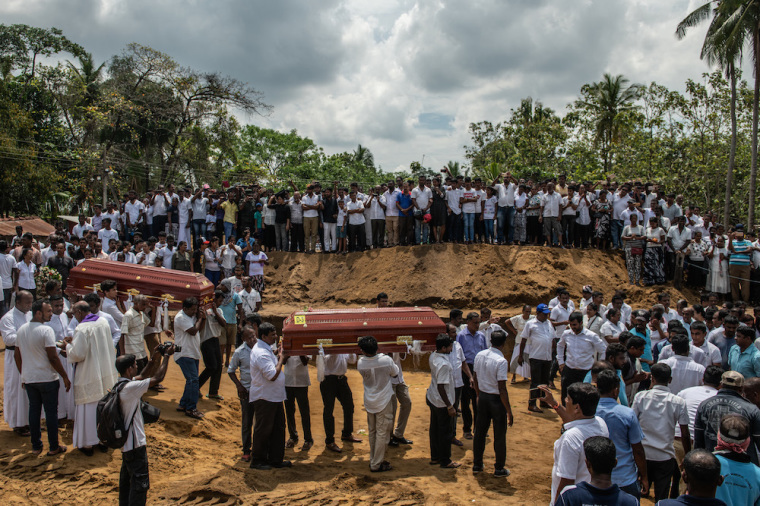 Persecuted Christian refugees and asylum seekers in Sri Lanka are in hiding inside a police station as a result of death threats from angry Sri Lankans following last month's Easter Sunday bombings that claimed the lives of over 250.
Multiple human rights organizations are raising an alarm as several migrant communities in Sri Lanka who originated from South Asia or the Middle East have been forced to seek legal protection as communal revenge violence has escalated in the wake of the bombings.
Although enraged Sri Lankans have primarily targeted peaceful Muslims and their property in response to last month's bombings claimed by the Islamic State, asylum-seeking Christians from Afghanistan and Pakistan who fled the country over religious persecution are also in fear for their lives.
Anton Kyanq, a Sri Lankan pastor who has traveled the country to bring assistance to Christians in need, told The Christian Post in an interview that as many as 60 Pakistani and Afghani Christian refugees are currently housed inside of a police station in Negombo (one of the three cities where the Easter suicide bombings have occurred).
Kyanq has worked with the London-based charity British Pakistani Christian Association to provide aid to the displaced Christian refugees at the Negombo police station. He estimates that as many as 160 asylum seekers are being sheltered at the station.
Sri Lanka is home to about 1,600 asylum seekers from Pakistan, Afghanistan, and Iran who fled religious, political or ethnic persecution in their homelands. About 800 asylum seekers live in rented homes in Negombo with the backing of United Nations assistance.
The other 100 migrants house at the station are of the Muslim faith, he said.
"People were told it was a terrorist attack from an Islamic background. So they thought maybe [since] these people are also from a background similar, maybe these people are also connected to these groups," Kyanq explained. "So they were angry at them."
Inside the police station, Kyanq said that the migrants have been given nothing but mats to sleep on and must deal with the mosquito bites, the cold breeze, and the rain.
The migrants are allowed to go back to their rented homes and come back to the police station should they want to risk their safety.
"For the time being, the protection is fine but we cannot say what will happen tomorrow," Kyanq explained. "We don't see any progress."
Kyanq said that the UNHCR is providing food to all the asylum seekers in the police station, even those that had been rejected by the agency for resettlement in another country. However, Kyanq stressed that the food the UNHCR gives out is "not good."
Throughout Negombo, hundreds of  Ahmaddiya Muslims, who follow a sect of Islam that advocates for peace and tolerance, have been forced to flee their rented homes.
Kyanq said the Pakistani Christians and Ahmadi Muslims in Sri Lanka essentially live as part of the same community as persecuted minorities from a hardline Muslim-majority country.
"They live as a community together. Even the Christians also get along with Ahmadi Muslims because both of them are persecuted," Kyanq explained.
One Christian asylum seeker from Pakistan told the Daily Mirror that she was forced from her home the day after the April 21 Easter bombing claimed around 100 lives at St. Sebastian's Church in Negombo.
"I was cooking when a group of people arrived and shouted at us to leave," the asylum seeker named Hafza was quoted as saying. "Then, the house owner said if we don't leave, he would also be attacked by them. We just had to leave with our kids."
According to Kyanq, the government plans to eventually move the asylum seekers out of the police station to some sort of restricted area where they could be protected.
"Such place will be selected and they would be put into the camp or something. The government will handle everything. This is what they say," Kyanq said. "But now the [government] allows people to leave if they want, but some people don't find it's safe for them to move."
Human Rights Watch, a leading international human rights watchdog organization, reported that hundreds of asylum seekers have sought shelter in an Ahmadiyya mosque in Negombo while others have been sheltered at a local school.
HRW joined over a dozen other human rights agencies in issuing a joint statement last week calling on the Sri Lankan government to deploy adequate law enforcement to ensure the protection of the vulnerable refugee communities seeking shelter in mosques, police stations, and other locations.
The joint statement estimates that about 1,200 people from Pakistan and Afghanistan, most of them Muslims, have fled their homes in Sri Lanka due to the fear, threats, and intimidation following the Ester bombings.
The organizations call for the Sri Lankan government to "urgently relocate" refugees seeking shelter in the Negombo police station and houses of worship "to appropriate locations with adequate sanitation, sleeping space, and security."
The joint statement stresses that the Sri Lankan government should work with UNHCR to ensure that the settlements for these refugee communities are not "de facto detention centers."