Al Gore on Obama's Lackluster Debate in Denver: Altitude to Blame
Former Vice President Al Gore has suggested President Obama suffered a lackluster performance in the Presidential Debate in Denver because he was affected by altitude.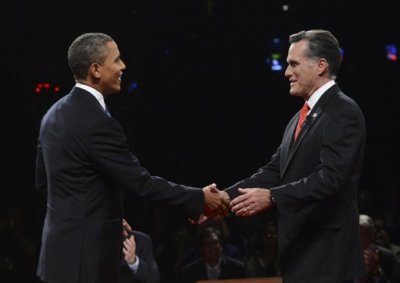 "Obama arrived in Denver at 2 p.m. today - just a few hours before the debate started," Al Gore explained on his Current TV Network. "Romney did his debate prep in Denver. When you go to 5,000 feet and you only have a few hours to adjust -- I don't know."
Pundits and voters have widely suggested that Mitt Romney won Wednesday night's first Presidential Debate, with many expressing surprise at how badly President Obama performed. Some have questioned the president's body language, with BBC's U.S. political correspondent even suggesting he appeared he didn't want to be there.
Al Gore's explanation is certainly a colorful one, but is unlikely to satisfy pundits, who on the whole have slated Obama's performance - some suggesting it was potentially a game-changer, and others interested to see whether Romney's performance would convert to polling numbers.
Dan Balz of The Washington Post has said, "The president was on defense and Romney was on offense."
He added, "Romney's campaign feels pretty good. But they will really be looking at where they are in two weeks."
Glenn Thrush of Politico suggested President Obama could simply have been rusty on the debating stage, "Barack Obama has not been on a debate stage for 1,400 days and that really showed tonight. Mitt Romney has been in 29 debates in the last 18 months. One guy used to do this passably well (Obama). The other guy currently does it well. The president is really going to have to improve his performance in the next two weeks."
Molly Ball of The Atlantic was much more clear-cut in how the debate went: "A major win for Romney by any measure. He was quick, aggressive and energetic, while Obama was rambling and defensive much of the time. The president may have wanted to seem above the fray, but instead he seemed beside the point, and Romney seemed more than capable of stepping into his shoes."
Mark Knoller of CBS News said, "It appeared that Romney was more confident. Sharing the stage with the president made him seem presidential. And even Obama campaign aides say Romney did himself good tonight."
Mark Mardell of BBC News also added, "As theatre, a battle of image and confidence, Mitt Romney was the clear winner. He looked Mr Obama in the eyes as he interrupted with animation, overriding the moderator, insisting on a comeback."
He commented about Obama: "President Obama on the other hand looked as though he'd much rather be out celebrating his wedding anniversary with his wife. He started out looking very nervous, swallowing hard, not the confident performer we are used to seeing."
Meanwhile MSNBC, which has maintained a strong pro-Obama commentary over recent months, appeared to suggest the debate would have no affect and was unmemorable. Lawrence O'Donnell said, "It's impossible to judge a winner tonight. It's not up to anyone on the debate stage or in this room. The answer is in the polling, and we will start to get that next week. If there's no movement in the polls this debate will mean nothing. It would have been entirely neutral. There was nothing said in that debate that was memorable 10 minutes later.
First Presidential Debate 2012 (Complete) Romney vs. Obama