Alex Jones on 'Piers Morgan' Warns of Civil War if Guns Are Taken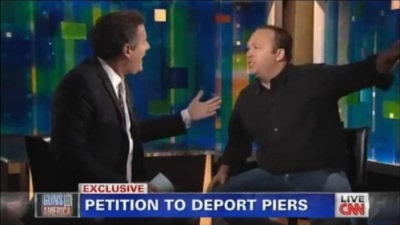 Alex Jones, a talk radio host from Austin, Texas who hosts "The Alex Jones Show," has warned CNN host Piers Morgan about a new civil war if the U.S. government passes legislation tightening gun control.
"Hitler took the guns! Stalin took the guns! Mao took the guns! Fidel Castro took the guns! Hugo Chavez took the guns!," Jones began during an interview on "Piers Morgan Tonight" on Monday, referring to German Third Reich president Adolf Hitler and a host of socialist leaders, but provided limited historical or political context behind his statement.
"[The year] 1776 will commence again if you try to take our firearms!" Jones screamed right into Morgan's face, while the CNN host stared at him directly.
"It doesn't matter how many lemmings you get out there in the street begging for them to have their guns taken. We will not relinquish them. Do you understand?" Jones continued.
Morgan started the show by reminding viewers that an online petition calling for his deportation back to the U.K. has gathered over 100,000 signatures and claims that the CNN host has been attacking the Second Amendment right to bear arms by suggesting that there should be tighter gun control laws in America.
The gun debate issue has been gaining steam across the nation in recent weeks, following the year-end massacre of 26 people at Sandy Hook Elementary School in Newtown, Conn., where 20-year old Adam Lanza killed 20 children and six school employees, and later shot himself. At least three different types of guns were found in his possession, including an automatic weapon, which were all legally purchased by his mother, Nancy Lanza – who he also killed before driving to Sandy Hook Elementary.
The Newtown tragedy was only the latest in a series of deadly gun attacks that dominated headline news in America in 2012, and President Barack Obama promised that steps would be taken to counter the problem, and that everything would be done to prevent future shootings like the ones at Sandy Hook.
Backers of the Second Amendment, however, have remained opposed to all suggestions of tightening gun control laws and have said that cracking down on gun owners is not the right way to tackle the problem.
The debate between Jones and Morgan, in which the conservative radio host continued shouting throughout, focused on gun shooting statistics and crime rates in America and in countries like the U.K., where firearms are much more tightly controlled, with both men pointing to different numbers to make their point.
Jones then accused Morgan of having a secret agenda in his insistence that guns need to be better controlled in America.
"You're a hatchet man of the New World Order. You're a hatchet man! And I'm going to say this here, you think you're a tough guy? Have me back with a boxing ring and I'll wear red, white, and blue, and you'll wear your Jolly Roger," Jones shouted.
The 12-minute interview concluded with Morgan reminding viewers that Jones is one of the people who signed the online petition asking for the CNN host to be deported from the country, while Jones said that the petition is to point out that Morgan is "a foreigner, a redcoat, here telling us what to do. Go back where they took the guns, if you don't like it!"
In addition to producing his self-titled radio show, Jones also runs the websites InfoWars.com and PrisonPlanet.com. Although he is labeled by some as a right-wing conspiracy theorist, Jones says he is a Libertarian.
Watch Alex Jones's appearance on "Piers Morgan Tonight":
Alex Jones Piers Morgan - '1776 Will Commence Again' If Guns Taken Away