All Florida School Buildings Required to Display 'In God We Trust'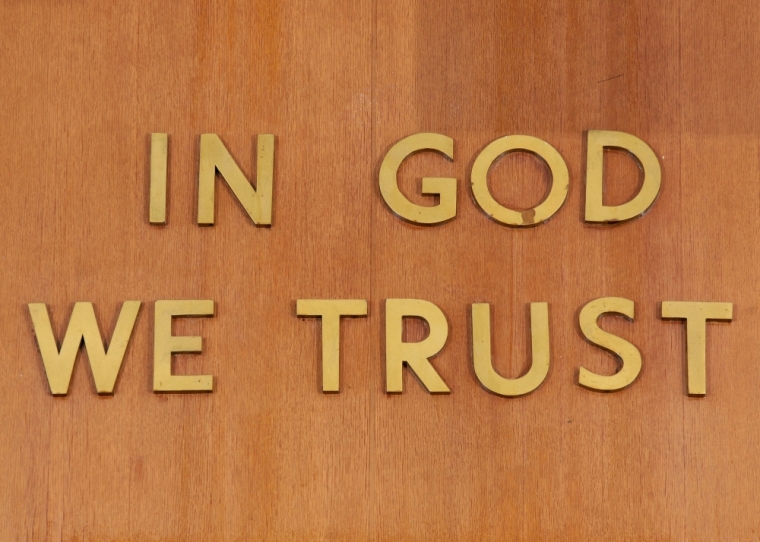 Come the start of the new school year, all school buildings in Florida will have to conspicuously display the national motto "In God We Trust."
Thanks to a sweeping education bill signed into law in March by Gov. Rick Scott according to WPTV, children will now be educated and exposed to "this great motto, which is a part of this country's foundation," Florida Democratic House member from Jacksonville Kimberly Daniels said. Daniels, who moonlights as a preacher, sponsored the bill to display the motto in all schools.
The law states: "Each district school board shall adopt rules to require, in all of the schools of the district and in each building used by the district school board, the display of the state motto, 'In God We Trust,' designated under s. 15.0301, in a conspicuous place."
"Something so great should not be hidden," Daniels told the Orlando Sentinel in March.
"This motto has been part of our history, it's been part of our nation," added Chris Walker, a Lake County pastor, who testified in Tallahassee for the bill. "The principles that we stand on, and our forefathers created, was in God we trust."
Andy Reid of the Sun Sentinel said the push to get "In God We Trust" signs in all schools was part of the Florida Legislature's response to the Feb. 14 school shooting in Parkland which left 17 people dead at Marjory Stoneman Douglas High School.
He argued in an op-ed that the push was a hollow gesture because legislators didn't invest enough money in the state to cover things like mental health professionals and security officers for schools. They also weren't willing to outlaw high-capacity ammunition magazines that allow mass shooters to kill easily.
"Students deserve more action from lawmakers, not religious inspiration, to make schools safer," he argued. "Plenty of prayers are following students and teachers into schools each day in communities worried about becoming the next Parkland."
Just last month, the Congressional Prayer Caucus Foundation celebrated more than 200 religious freedom and Christian heritage bills proposed in over 32 states and Congress in 2018 alone. Some 24 of them were signed into law in 13 states, including Florida's bill to display "In God We Trust" in schools and other public spaces.
"Sometimes it's good to just stop for a moment, take a deep breath, and celebrate the wins ... wins for freedom ... wins for our heritage ... wins for people of faith!" the foundation said.
The organization, which started in 2005, says it has been able to successfully advance legislation to protect religious freedom, preserve America's Judeo-Christian heritage and promote prayer through Project Blitz. A 116-page guide posted to the organization's website lays out a guide for legislators to advance religious freedom interests nationwide.