All-Girls Catholic School to Students: 'You're Not a Princess'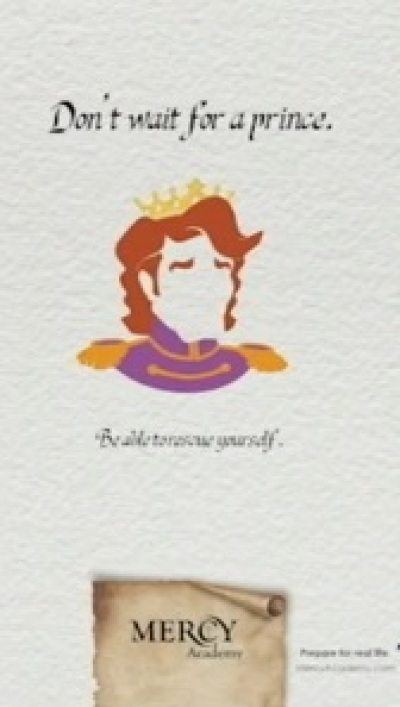 An all-girls' Catholic high school in Kentucky is receiving attention for its latest advertising campaign aimed at recruiting young students. The campaign seeks to take a feminist approach to education by distributing advertisements that read: "You're not a princess," and "Prepare for real life."
The all-girls Catholic high school Mercy Academy in Louisville, Kentucky has teamed up with the Lousiville-based advertising agency Doe-Anderson to create a new series of recruitment advertisements that have been plastered on billboards, websites, and bus shelters as of last week. The advertisements seek to encourage young female students to be independent and driven.
"You're not a princess […] prepare for real life," reads one of the advertisements, accompanied by a sketch of a glass slipper reminiscent of the one Cinderella wore to the ball in the classic Disney fairy tale "Cinderella."
Another advertisement reads: "Don't wait for a prince, Be able to rescue yourself," complete with an image of a classic Prince Charming. A third advertisement reads, "You're not a princess, but you can still rule the world."
Amy Elstone, principal of Mercy Academy, told "Today Moms" that school officials knew their new advertising campaign was risky, but so far they have received positive feedback from both students and parents.
"This message empowers [the students] to move beyond that whole fairy tale idea and to write their own story in life," Elstone said. "We knew it was going to be risky going with this message," the principal continued. "Our girls are growing up in a society where they're told by their parents that they're a princess, and our message is that they're not a princess, they're so much more."
Elstone went on to say that so far, the feedback has been positive and "amazing." "We've been hearing people talking about it in the community. It's all over Facebook. It gets people talking. People are debating our message and applying it to their own life."
Others are pointing out that it seems somewhat remarkable that a Catholic high school, known for conservative values, is taking a "progressive" view on the woman's role in the world. "What's most remarkable is that a Catholic preparatory school is taking a view of women's education that doesn't end in a prince," Rebecca Cullers wrote in a recent article for AdWeek. "Lord have mercy, but Mercy Academy has a progressive view on women's role in the world."
Elstone added to The Huffington Post's UK Lifestyle edition that she believes the new advertising campaign falls very much in line with the high school's founding values: "As a Catholic institution, our foundress, Catherine McAuley, focused on education as a way of empowerment, self-sustainability, and independence. We believe in empowering young women to chart their own course in life," the principal said.