Alleged former lover of Pastor Jamal Bryant speaks out after he's accused of 'egregious sexual conduct'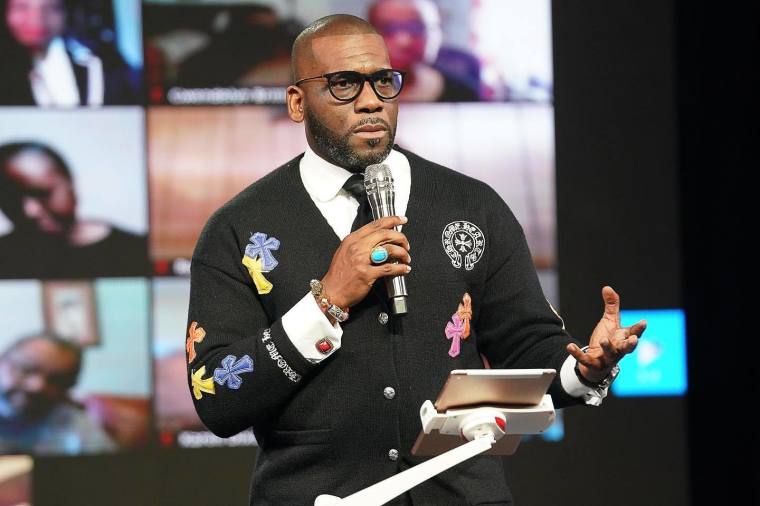 A woman who alleges she had a yearslong intermittent sexual relationship with Pastor Jamal Bryant of New Birth Missionary Baptist Church in Stonecrest, Georgia, is suggesting that he be removed from the pulpit because he's not fit to be a spiritual leader.
"We all have sinned and we've all fallen short, but we can't keep thinking that it's OK to get your 'get out of jail free card' every time you do this," said the woman, Tunya Griffin, who serves as associate director of university/community partnerships at the Rochester Institute of Technology.
"That's not grace at all. And so the response of the church is around this ideal: if somebody falls we help them get up. We clean them up and we bring them back into the fold. OK, yes, we do. They fall. We clean them up. We bring them back in. But that does not mean that you bring them back in to occupy the same space," she said.
Griffin spoke out about her relationship with Bryant in an interview posted on YouTube Tuesday in which she claimed the unmarried pastor pursued other relationships and fathered at least two children over the period they were intimate.
Her interview comes less than a week after Bryant, she said, mispresented parts of their relationship in an online broadcast responding to claims made by "Real Housewives of Potomac" Season 5 cast member Monique Samuels about his personal life.
During a recent reunion special in which she argued with Bryant's ex-wife and castmate Gizelle, Samuels branded the Atlanta pastor a "holy whore." She also accused Gizelle Bryant of peddling a narrative that she was reconciling with her pastor ex-husband despite knowing the story to be untrue. Samuels further produced evidence from text messages Griffin confirmed were between her and Pastor Bryant in which he stated that the reconciliation storyline was just for entertainment purposes.
According to TMZ, Pastor Bryant has since sent Samuels a cease and desist letter accusing her of "maliciously spreading inaccurate and unfounded information."
Firing back through her lawyer, Samuels sent Pastor Bryant a letter insisting that she "has irrefutable proof of your egregious sexual conduct with a woman you have been seeing for the past eight years, as well as others."
Griffin, who says she holds multiple academic degrees including a M.Div., said Pastor Bryant shouldn't be in a position of spiritual authority because he is not a truth teller.
"I must say that Monique is a class act and here's why. She stood in a position that the church itself should be sitting in. If you read Scriptures, and we won't go through that because that's not what this is about, but she stands in that place, stating to the person who is to proclaim truth, that he is a liar," Griffin said.
"This is the position of the Church. The Church, you would think that Jamal should be doing what Monique is doing. But it is Monique who is saying to the Church who should be a truth teller. … She produced the receipts. I would take and have Monique on my research team at any place, any day, and at any time," she said.
She further argued that New Birth now has an opportunity to respond to allegations of sexual misconduct in a way that they haven't previous done before.
"If you think about the legacy of Bishop Eddie Long … I'm not saying that this is the case, but this is something to consider … This is [an] opportunity for the church to respond differently than when they did when they had a leader prior to Jamal Bryant," she said.
Long, the flamboyant former leader of New Birth Missionary Baptist Church who died in 2017, faced several lawsuits during his tenure alleging sexual relations with teenage boys who were members of his church. He made undisclosed financial settlements with his accusers — Anthony Flagg, Maurice Robinson, Jamal Parris and Spencer LeGrande — in May 2011.
Bryant was selected to lead New Birth in 2018 in a controversial process that Long's named successor, Bishop Stephen A. Davis, called corrupt after he resigned from the post he held for just 16 months.
Thomas W. Dortch Jr., an Atlanta businessman and chairman of New Birth's board, said part of the reason Bryant was chosen was because he had a plan to reduce the church's $31 million debt.
"He didn't come in talking off the cuff," Dortch said. "This is one guy who's an architect for religion."
Long's eldest child, Edward Long who expressed his disappointment in being overlooked for his father's old job twice, told the congregation in 2018 that he wasn't happy with Bryant's selection.
"I didn't choose Jamal Bryant but a choice was made, so I'm not gonna speak against him. ... I'm not gonna talk trash about him. I'm gonna love on him and pray for him. Some things have happened concerning him, I'm just gonna forgive him and love on him. I'm gonna do what Jesus commissioned me to do. And I'm gonna let the world watch me do it as a living sermon, as a living epistle of how to walk through some tough times and how to handle some tough things because people are watching," Long said.