Edward Long reveals pain of being repeatedly rejected by New Birth's leaders as father's successor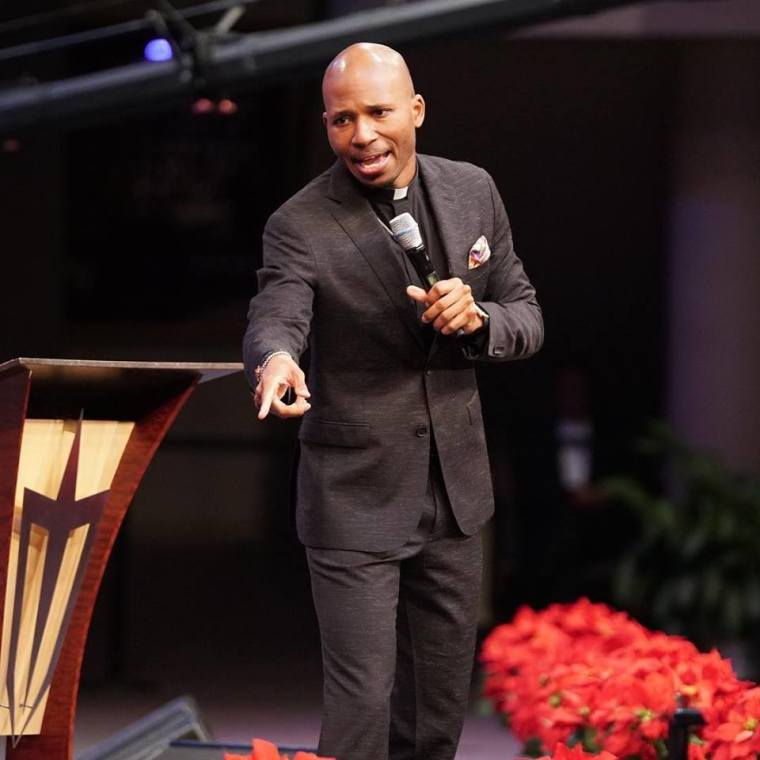 In the nearly two years since the death of Bishop Eddie Long of New Birth Missionary Baptist Church in Stonecrest, Georgia, the late megachurch preacher's eldest child, Edward Long, has quietly dealt with the pain of being repeatedly overlooked as his father's successor.
In a parabolic sermon on Sunday, a day Long described as the "toughest Sunday of my life," the minister and elder at New Birth came clean with his congregation.
"I thought that I was dealing with depression for the past two years because I kept getting looked over and looked over and looked over. Why is it that I get more love from the outside than the inside? But then I read what Jesus said," Long revealed on Facebook.
It was a week before the church is expected to welcome controversial Baltimore megachurch Pastor Jamal Bryant as their newest senior pastor on Dec. 9.
Bryant's appointment begins months after Bishop Stephen A. Davis, who took over leadership of New Birth shortly after Bishop Long's death, resigned from the church in June.
"This is a tough Sunday for me y'all. I just got to be honest with you. It's a tough Sunday because I grew up in this church. It's a tough Sunday because since my father came to this church in 1987, I was 4 years old, I've been with him throughout. Our family has been with him throughout. I worked in every auxiliary in this ministry. First job was a janitor. So I've been dealing with your mess for a long time," he quipped as the congregation laughed with him.
Long then shared how he reluctantly got into ministry and abandoned a promising career in media and music after his father asked him to help with the church.
"First of all I never wanted to preach. I just wanted to do music. I just loved the arts. Some get a call like Samuel where you hear the voice of the Lord. ... I literally got a call. Father called me and said, 'son, I need you.'
"I said, 'not now.' It was approximately 10 years ago in 2008. And I walked away from a syndicated radio show. I walked away from a few deals that were on the table concerning music. I walked away in faith, trusting God that if I turn away from this. You got me. You got me," he said.
So when his father died, having spent so much time in ministry and preaching around the world, Long said many expected that he would be the one to fill the role left vacant by his father.
"In my father's transition, people have stopped me in the hallways, reached out to me on social media, been traveling a lot, speaking as an itinerant minister all around the globe, literally. And people would share with me that they thought that I would have been named the successor," he said.
However, Davis was named as the man for the job. When Davis resigned in June, Long's name was raised again and he said he applied for the job.
"I applied for the role and I went through the process. It's not easy to stand here today. To be a son in this house. To know what your father's vision was for this place and to have vision on top of vision to see things move forward and to have to wrestle with certain things. I'm standing here as a living epistle," he said.
Then church leaders announced late last month that Bryant was chosen from a pool of 138 candidates to lead New Birth.
Thomas W. Dortch Jr., an Atlanta businessman and chairman of New Birth's board, suggested in an earlier report that part of the reason Bryant was chosen for the job was because he had a plan to get the church out of debt.
New Birth's board had asked applicants to come up with solutions to reduce the church's $31 million debt.
"He didn't come in talking off the cuff," Dortch said. "This is one guy who's an architect for religion."
Despite his disappointment with being overlooked for his father's old job again, however, and past disagreements with Bryant, Long told the congregation that he will pray for him anyhow.
"I didn't choose Jamal Bryant but a choice was made, so I'm not gonna speak against him. ... I'm not gonna talk trash about him. I'm gonna love on him and pray for him. Some things have happened concerning him, I'm just gonna forgive him and love on him. I'm gonna do what Jesus commissioned me to do. And I'm gonna let the world watch me do it as a living sermon, as a living epistle of how to walk through some tough times and how to handle some tough things because people are watching," Long said.
"This was the toughest Sunday of my life to stand before you because I'm not standing here to appease anybody, I'm standing here pushing you to always put your trust and faith in God always. As I'm working toward my breakthrough, grab hold. We can't get breakthroughs if we can't lose in truth, because we worship God in spirit and in truth," he added.
He noted that some people think they have been dealing with depression but in fact have been dealing with rejection, and said it doesn't matter who chooses or doesn't choose them.
"God says, 'you didn't choose me. I chose you," he said.
Long then suggested that God might call him to preach beyond New Birth.
"I got a revelation a few days ago. Every disappointment, you got to understand what it is. It's a dis-appointment … is actually an appointment. It simply takes something off the table that lets you know, I actually got something greater for you and better for you, so I disappointed you to appoint you. See I was upset, I'm just being honest, I was upset because of a certain position or appointed place. But then the Lord spoke to me and he said, 'Son, the Earth is the Lord's and the fullness thereof. So I can use you here while I send you out there to nations. Don't just be trippin' because you didn't get called to Stonecrest," he said.