American Citizen Dies Fighting for ISIS in Suicide Bomb Attack, Claims Terror Group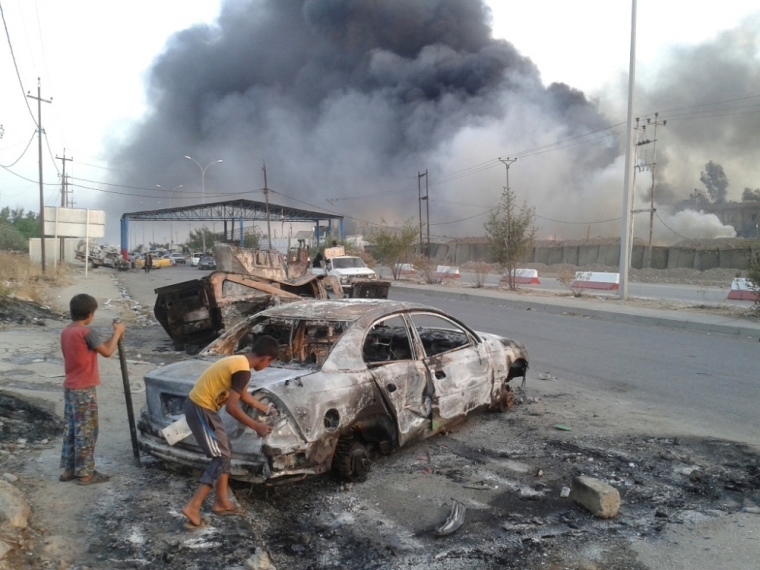 ISIS has claimed that a U.S. citizen carried out a suicide bomb attack with a truck in Iraq earlier this week that killed "dozens of security forces. While the terror group's claim has not yet been verified, if true it would be the first report of an American who has died fighting for ISIS.
"The brother Abu Dawud al-Amriki (may Allah accept him) launched himself with his explosives-laden truck," an ISIS bulletin read, according to AFP news agency. It added that "dozens" of Iraqi soldiers were killed in the attack in Samarra.
CNN, which also reported on the news, said that U.S. government officials haven't been able to confirm the identity of the attacker. Two senior Iraqi security officials confirmed that such an attack took place, but also did not know the identity of the suicide bomber.
In February, U.S. intelligence officials said that at least 150 American citizens are among 20,000 foreign fighters who've attempted or were still trying to join ISIS.
The terror group, which has captured significant territory across Iraq and Syria, has been attracting an unprecedented number of foreign fighters and aligning other radical Islamic terror groups to fight for its mission of establishing a caliphate over the region.
Local ground troops have been attempting to retake some of the captured cities, and have been supported by airstrikes carried out by the U.S. and a broad coalition of allies.
Nick Rasmussen, chief of the National Counterterrorism Center, confirmed that 150 or so American citizens are known to have made an attempt to join ISIS.
Rep. Michael McCaul, R-Texas, said that Syria has seen "the largest convergence of Islamist terrorists in world history."
"I am worried about our ability to combat this threat abroad, but also here at home. I wrote to the president recently as part of my ongoing investigation and raised concerns that we have no lead agency in charge of countering domestic radicalization and no line item for it in the budgets of key departments and agencies," McCaul, who chairs the House Homeland Security Committee, said at the time.
"I am also concerned that the few programs we do have in place are far too small to confront a challenge that has grown so quickly."
On Thursday, CNN provided a report on some of the Americans who are believed to have joined ISIS, with the profiles being mostly of young people in their late teens or early 20s.
Former jihadist Mubin Shaikh suggested that many of these young people are struggling to combine their Muslim and Western identities, which can explain their attraction to joining ISIS.
"When you're dealing with first-, second-, even third-generation individuals from various ethnic backgrounds, there are still problems of acculturation and integration," he said. They ask: "Who am I supposed to be? "