American Evangelical Leaders Visit Saudi Crown Prince Amid Backlash to Khashoggi Murder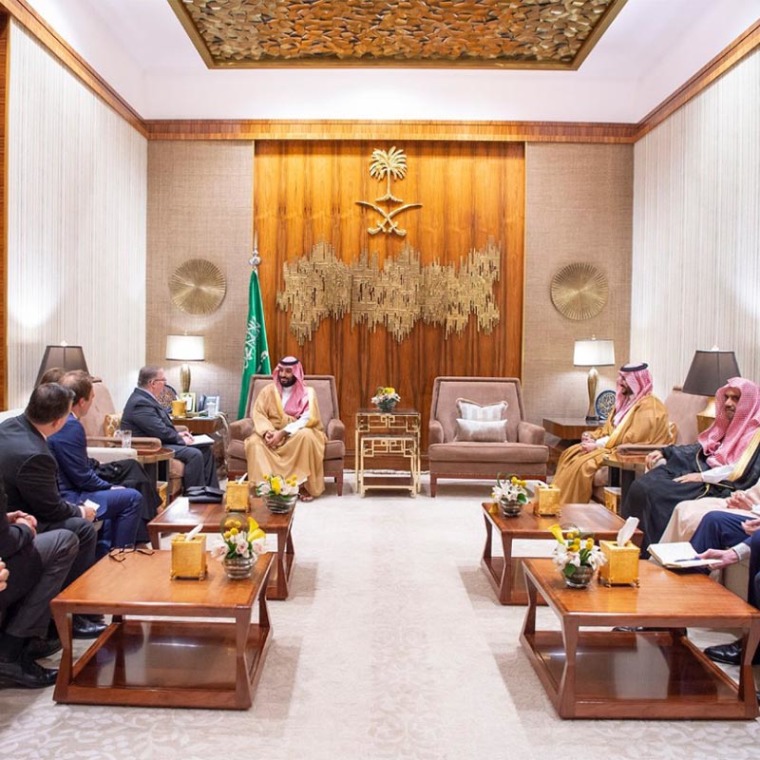 A group of evangelical leaders from the United States became the first American evangelical delegation to visit with the crown prince of the Kingdom of Saudi Arabia on Thursday amid outrage over the killing of a Saudi journalist.
Led by evangelical author Joel Rosenberg, a group of about seven evangelical leaders were invited to the Royal Palace in Riyadh by Mohammed bin Salman to discuss his vision for the Muslim-majority Kingdom and the Middle East.
The group included former Republican congresswoman and presidential candidate Michele Bachmann, U.S. Commission on International Religious Freedom Commissioner Johnnie Moore, National Religious Broadcasters President Jerry Johnson, former Christian Broadcasting Network president Michael Little and longtime evangelical communications executive Larry Ross.
"We were pleased by the invitation extended to us more than two months ago by the Kingdom of Saudi Arabia. It was a historic moment for the Saudi Crown Prince to openly welcome Evangelical Christian leaders to the Palace," they said in a statement. "We were encouraged by the candor of the two-hour conversation with him today. We discussed his 'Vision 2030' plan, the region, Islam and Christianity."
"Without question, this is a season of tremendous change in the Middle East, and therefore we have been grateful for the opportunity to meet in-person with key Arab leaders to understand their goals and to ask direct questions. We look forward to building upon these relationships and continuing the dialogue."
The delegation also met with Saudi officials in charge of foreign affairs, education and Islamic affairs, as well as the heads of Etidal — the global center for combating extremist ideology. Additionally, they met with the leader of the Muslim World League.
The delegation's visit to Riyadh comes as there has been intense backlash from the international community surrounding the death of Saudi journalist Jamal Khashoggi. Saudi agents are accused of strangling Khashoggi and dismembering his body at the consulate in Istanbul and Turkish authorities are demanding to be told where his body is.
It is not immediately clear whether or not the delegation brought up Khashoggi's death in their conversations with the crown prince, Foreign Minister Adel bin Ahmed Al-Jubeir or other leaders. The Christian Post reached out to Moore for comment. A response is pending.
According to the Christian Broadcasting Network, the meeting was "filled with both political controversy and spiritual opportunity."
"There's a lot of people who would say this is the wrong time to go to Saudi Arabia and meet with the leadership there," Rosenberg, a joint Israeli-U.S. citizen, told CBN News. "I understand that criticism, but I disagree."
Rosenberg said that if people ask him why he would go and meet with the Saudi leaders given the international outcry, he would simply say that he is called to be a "peacemaker" as a Christian as well as an advocate for religious freedom and peaceful coexistence.
"[M]y answer is how can I not?" Moore, who also serves as an informal spokesperson for the evangelical leaders who advise the Trump administration, was quoted as saying.
The delegation to Saudi Arabia also included Skip Heitzig, senior pastor of Calvary Albuquerque in New Mexico, Jerusalem Prayer Team founder Mike Evans and former NRB CEO Wayne Pederson.
The visit to Saudi Arabia follows similar meetings the delegation had with leaders in Egypt, Jordan and the United Arab Emirates.
Earlier this week, the evangelical delegation met with Abu Dhabi Crown Prince and Deputy Supreme Commander of the U.A.E. Armed Forces Sheikh Mohamed bin Zayed Al Nahyan.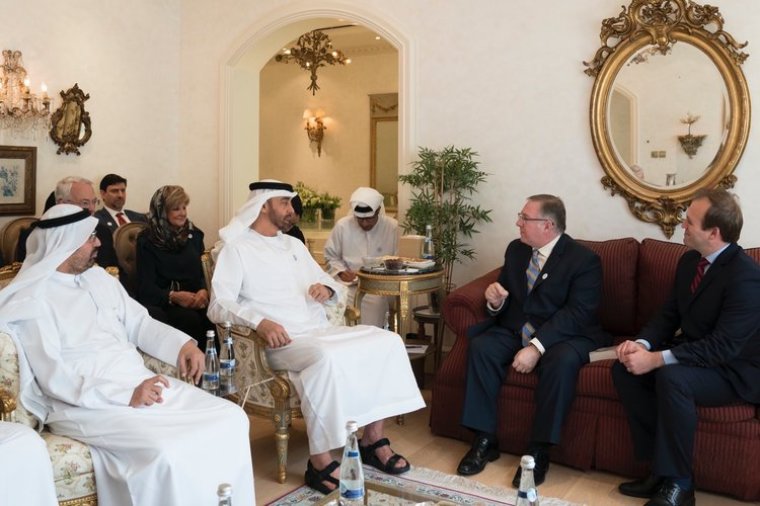 It was the crown prince, who was born in a hospital founded by evangelical missionaries, who invited the group of evangelical leaders to the nation to see how the Arab country is emphasizing tolerance and religious freedom in a part of the world that has tragically struggled to protect religious freedom and human rights.
The group also discussed with the crown prince threats posed by Iran, the Muslim Brotherhood and the "prospects for regional peace."
"The U.A.E. is aggressively working to combat extremism in the Middle East and beyond. Their leadership is encouraging," USCIRF Commissioner Tony Perkins, president of the conservative Family Research Council advocacy organization. said in a statement following the visit. "They have an appreciation for religious freedom that is rare in this region. Under the crown prince's leadership, the U.A.E. is a more tolerant nation, where Christians are allowed to worship freely. I saw firsthand how this freedom of worship is boosting the economy and security of the nation."
According to Rosenberg, the goal of the delegation's visit was to "build relational bridges of friendship."
The delegation also met with U.A.E. Minister of Foreign Affairs and International Cooperation Abdullah bin Zayed Al Nahyan, the brother of the crown prince, U.A.E. Minister of State for Tolerance Sheikh Nahyan bin Mubarak Al Nahyan and officials from the Sawab Center, a joint U.S.-U.A.E initiative to combat the Islamic State.
"We are living in a rare moment, a window of opportunity for leaders of goodwill — Muslims, Jews and Christians — to actually achieve the peace for which we have only hoped and prayed until now — including peace between Arabs and Israel," Bachmann, a former Republican presidential candidate, said in a statement.
Perkins praised the fact that there are over 700 Christian churches and ministries operating throughout the Sunni-majority country.
"Observing the security and freedom of worship that minority faiths have in the U.A.E. gives me hope for greater expansion of religious freedom in the U.A.E. and for persecuted religious minorities across the Middle East," Perkins stressed. "The U.A.E. is pursuing a path of religious tolerance and peace that I pray other countries in the region would follow."
The visit to U.A.E. comes as many nations and societies in the Middle East are hostile toward Christianity and other minority religions.
Although the U.A.E. is more moderate than some of its counterparts like Iran, Iraq or Syria, it's still ranked as the 40th worst country in the world for Christian persecution by Open Doors USA's 2018 World Watch List despite government efforts to promote tolerance.
"Emirati society is fairly tolerant towards expatriate Christian communities and allows them to worship relatively freely," an Open Doors fact sheet explains. "Converts to Christianity from Islam face the majority of persecution in the country, and they experience a great deal of pressure to recant their faith, both from their immediate families and society as a whole. While the government technically promotes religious tolerance, its promotion of Islam contributes to Christian persecution."
Open Doors also notes that expatriate Christian communities in the U.A.E. are "relatively free" to practice their faith but also face "restrictions."
"They are free to worship and practice their faith in private but are prohibited from expressing their faith, worshiping, preaching or praying in public," Open Doors reports. "Proselytization of any sort is illegal, so Christians must exercise caution and self-restraint when interacting with Muslims."
Johnson admitted in an interview with the Christian Broadcasting Network that the U.A.E. is "not an American model of religious freedom" but assured that it is a "good model" that is headed in the "right direction."
"[T]hey're moving in a very good direction, and this would be a great model for the regions in the area and we're just here to affirm that," Johnson explained.
Moore assured that the U.A.E. is committed to change "from the inside out" to be a more tolerant society. Moore told CBN that the U.A.E. is "miles ahead" of other Middle Eastern nations when it comes to promoting tolerance. He stressed the importance of the fact that the U.A.E. has an official minister of tolerance.
"Unique in the entire world, the UAE has a 'Minister of Tolerance' whose full time focus is ensuring equality & cohesion is preserved in society, including among religious communities," Moore wrote in a tweet.
Moore believes there is going to be a larger shift toward tolerance that is occurring throughout the Middle East.
In October, Moore and fellow USCIRF Commissioner Nadine Maenza became the first U.S. delegation ever to meet with the "religious police" in Saudi Arabia.
The pair met with officials from the Saudi Commission for the Promotion of Virtue and Prevention of Vice.
"I am encouraged by the opening that is being seen in the capital of Riyadh," Maenza said in a statement. "I saw women driving, some guardianship rules being rolled back, and women and men increasingly mixing in public venues, including at a Cirque du Soleil concert in Riyadh. The question we continue to assess is whether this opening is extending to other parts of the country and the degree to which these reforms are impacting freedom of religion or belief in a country that still —for instance — officially bans public worship unless it is the state-sanctioned practice of Islam."